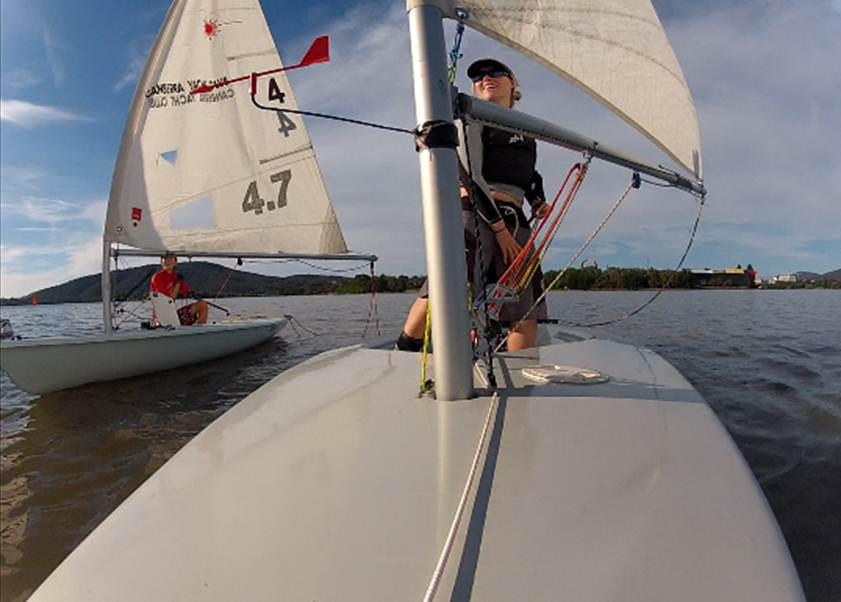 My biggest news for this week is that I have jumped on-board with DeckHardware as an Ambassador. I am really looking forward to having access to a great selection of brands including Allen and Liros, and most of all sharing the products with my sailing friends (I should now have a mean kit of spares). I am so lucky to be supported by some great companies and of course the people behind them. Between Zhik, DeckHardware and Club Marine I really do get access to the best products. Check out my sponsor page, for more on the fantastic companies that support me!
Last week I had a nice rest from training, chilling with my family and sailing mates – the biggest supporters of all. I raced with the dream team on the Magic last Wednesday, which was great fun! I haven't been on the Magic since mid last year I believe? I honestly can't remember as I have been so locked in to working on my skippering.
This week I have been doing a bit of sailing on the Laser Radial ahead of the NSW States at Gosford this weekend. On Sunday I raced in Canberra in the sprint series. After two races in very shifty and puffy conditions, I was one tired Sailor Girl! At 60kg, I am overpowered in about 7 knots, which means there is so much cunningham and vang on I feel like I have three mainsheets in the boat (well almost!). So following Sunday, I was surprised to learn from people in the know that I needed to pull on more?! I couldn't believe it. So I headed out to watch the High Performance Squad session on Tuesday night, instead of sailing myself. There were seven Lasers out, and I am so glad I watched, just to get my head around the sail profile. I learned so much, and it showed in the difference in my boat speed from Sunday to Wednesday night. On Wednesday, with armfuls of cunningham on, the boat actually felt bearable and I am now really looking forward to the weekend. I am praying that the forecast for sick sou'easters stays!
Following the States I will race the Laser for the next few weeks while I am sorting out a few things with jobs and housing. I am actually signing a lease in Sydney today, securing my move northward, back to the big city. I am really going to miss Canberra, my family and some fantastic people at the Canberra Yacht Club, but it is time for this Sailor Girl to push on to the next level!  Thanks so much to all the CYC members for the great times on the Lake, and for the support to take my sailing to the next level! (And hey I will be around whenever I can be!)
That's all for now everyone! I will keep you posted on the Laser States via Twitter if you are interested!
For some pictures from the Spiral Nationals a few weeks ago, check out the album at www.actionsportphotos.com.au
Have a most awesome weekend!