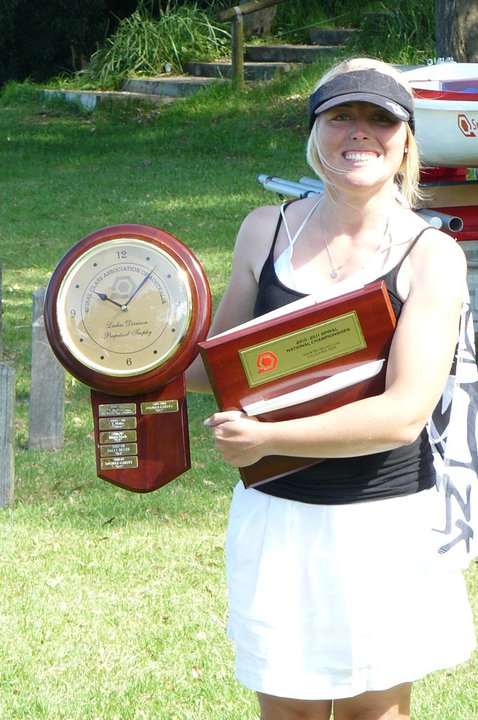 Chris Eddes of the capital is now a national champion! [singlepic id=89 w=320 h=240 float=right]
The Spiral Nationals wrapped up yesterday on Lake Macquarie, with just the one race in a strong but exceptionally shifty N-ENE breeze.
My start was brilliant, about ten boats up from the pin. I could see the boat and the pin when I started thanks to some nice line sag, and managed to breathe for at least a quarter of the work. Poor Tommy Spithill copped the worst of my high groove, before escaping below me.
In the increased pressure, the big guys were going fast around me, and eventually I had to tack off the right hand shift to breathe. I worked my way up the middle to round in the late teens to early twenties; Tommy Spithill lead the way, despite my hold up, with Chris Eddes hot on his heels. The wing mark was directly under Shipbuilder's point, in the lee of the breeze. This made the end of the first reach, and start of the second exceptionally tricky. I got through very well, and into the band of right hand pressure before the bottom mark. Chris had done the same in front of me, and was leading the way.
I would have rounded in about tenth spot, had all gone to plan. On approaching the mark, a number of boats that had gone low on the reach ahead of me (I went high which paid the dividends) converged on the mark all at once. I thought I had an overlap on fellow Canberra boat 901 (Steve), with 888 (Henry) on his outside. 891 (Alan) was on my tail, and 870 (Ben Taylor) was on his outside. I called the overlap (on many including Steve, which I thought was perfectly valid at the time), which Steve must not have heard, but 888 and 891 heard the call. In the large right hand shift boats were tacking straight onto starboard at the mark, and with all the boats coming up to the mark off the reach, and being locked in the overlap with Steve, I had a bit on. I had even more on when Steve appeared to not be leaving me room, and then confirmed his view by telling me so. I had absolutely nowhere to go. As a matter of self preservation I pleaded for him to let me in, even saying "look I have nowhere to go, even if you think the overlap wasn't there, let me in and I will do my turns once we are around". Thankfully, Henry left enough room for all of us (as he heard my call). I hit the mark, trying to avoid Steve and ended up with my boom over his head. This meant I couldn't pull on my mainsheet, and we reached down onto Henry before we could break free. As always, it happened so fast, I wasn't sure of my rights, and I felt so bad for causing the commotion I did a double spin.
A large pack rounded behind us, so by the time I had done my spins, I was well deep. I worked hard up the next work, and lived on the edge down the run to catch as many boats as possible (cheering for Chriso whenever he passed me). I did very well up the final work (and was close enough to see the battle between the two Chris's on the top reach) and was especially quick on the reaches, to round the bottom mark almost where I was before the commotion. I managed to finish in twelfth right behind Henry (888).
I apologised to Steve on the water, and approached onshore, but he unfortunately still has a different view of the events. I did what I now see were un-needed penalty turns, as the others who were on the scene both gave room to me and told me onshore that they thought Steve was in the wrong. So I guess the moral to the story is to stick to your guns, be certain of your rules, and don't let anyone make you feel guilty on the race track! Who knows where I might have finished!
Back to the important stuff! After eight races, and one drop, Chris's final race win was more than enough to take the top spot! He worked so hard and sailed so brilliantly. He really deserved the win, and it is so awesome to see him reach his goal!
[singlepic id=90 w=320 h=240 float=left]
My twelfth was enough to secure seventh spot overall, and the Ladies National Championship by some distance. So now I have a seventh in the NS14's with Chris and seventh in the Spirals so far this year! The full results are now available here.
Up next will hopefully be the Laser State Champs at Gosford. Chris is still a junior in the full rigs (under 21) so he wants to give that a whirl. I am still way too small for the Radial but I am interested in seeing how much I have improved, especially following my boost in confidence in my starting from the Spirals. Next will be the Spiral States at Oak Flats in mid-March, and also an appearance at the back of the Tasar, depending on Dad's progress, for the NSW State Titles at Lake Illawarra over Easter! All of this skippering practice should pay off when I move to Sydney in early March to focus on the 470… more on this soon!
Time to sign off and go unpack some boats! But before I do, congratulations again to Chris Eddes (yay!), Chris Loring, Glen Hammond and Tommy Spithill who finished in the top four. They showed us all how to sail Spirals this week. The Taylor brothers also sailed very well, and it was great to have them rock up for the series. Hopefully next time I can hit a few less marks and have a smashing start every race to be in the midst of it all in a few more races!
A massive thanks to Craig Davidson for all of his help in making the Spirals go fast and his support leading up to the regatta; to Rob Douglass who was our on water super coach for the first few days, and all-round weather guru.; to Bruce Eddes for the boats (funnily enough couldn't do it without them) and the support at the regatta for the last two days; and to Chriso (who now goes by Champ) for training with me, teaching me and sharing his class with me!
If you haven't seen our Spiral training video, you should check it out! The target was acquired!
Flick back a few posts to read up on some of my adventures, including past 2012 regattas, or to stay tuned on what is happening now – keep an eye on my social media.
Have a fantastic week everyone and enjoy your time on the water!