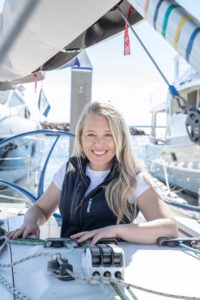 The Sailor Girl is Nic Douglass, an Australian commentator, presenter, public relations professional and audio-visual all-rounder.
SailorGirlHQ, as a business, produces content and promotes sailing events, brands and sailors themselves while following events around the world. From consulting work to support from our sponsors who we call "friends", the money that is made by our work goes straight back into providing more content, and covering more events around the world to promote the sport of sailing, and support the sailing community.
About Nic Douglass
Nic has worked in the communications field since the final six months of her BA Arts in Communication (Public Communication) at the University, Technology Sydney (2006), when she commenced a six-month internship at M&C Saatchi. This morphed into a permanent freelance position with their internal PR company, then called Open Dialogue working across brands from Optus "Zoo", NRMA "HELP" and Qantas "Still Call Australia Home" to the "Where the Bloody Hell Are You" campaign for Tourism Australia. It was the latter that sparked her interest in virality, and the power of public relations and led me to also complete a Graduate Diploma in Marketing (UTS, 2007). Since then, she has worked in the construction industry, the sport and leisure industry, and the public service in communications roles, and has furthered her studies with a Post-Graduate Diploma in Psychology (CSU).
2023 marks the eleventh year that Nic has been working in sailing communications full-time, following her passion for the sport, and an early exit from her campaign for the 2012 Olympics in Women's Match Racing.
In 2009, Nic won two Grade One gold medals in the new Olympic class of Women's Match Racing for the Australian Sailing Team. She is a three-time (current) World Champion in the Tasar dinghy, and over ten-time Australian National Champion in fleet and match racing.