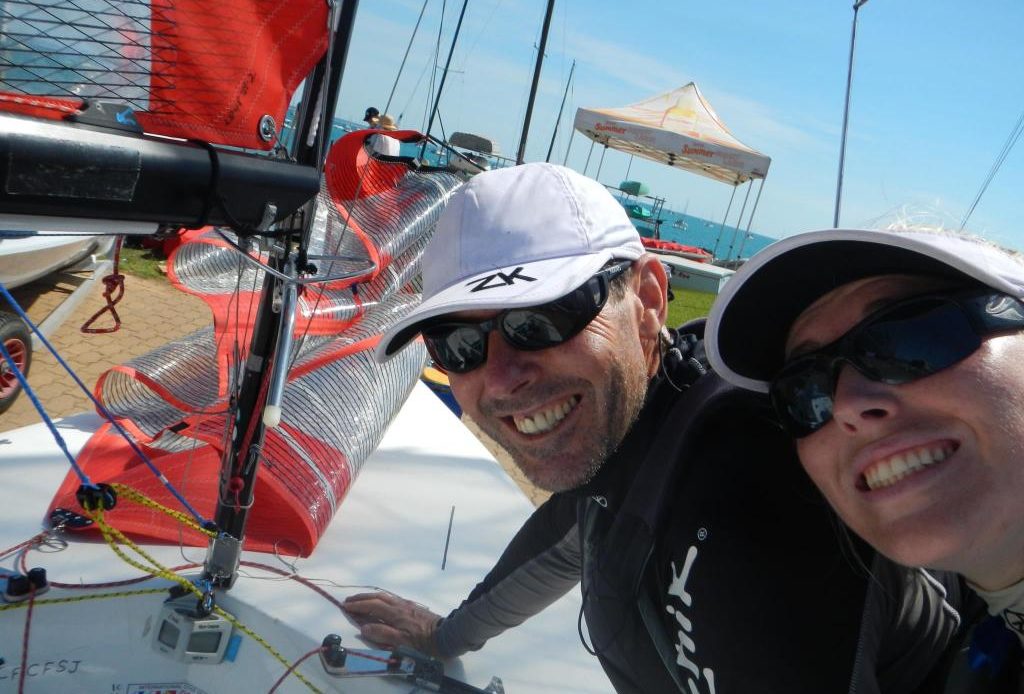 Second last day of the Tasar Nationals in Darwin. Three races to be sailed today with one left for tomorrow, and at the moment – looking windy! Sitting in 11th place after a few tough moments on and off the water, so doing our best to hold on and get into the top ten.
The hand is doing well after a day off on lay day, where I sported a double layered blue surgical glove to keep out the water whilst exploring Litchfield National Park. Got a few strange looks, but that is normal I guess 🙂 Felt good yesterday, even though the cut is open, I was able to hold on to the traveller quite well! I am just so happy I was able to get on the water, which wasn't certain ten days ago.
Our scores so far are 9, 27 (capsize from 12), 12, 4, 13 , 16. Was great to get the 4 day before lay day! We were inside the top ten yesterday, but had an entertaining incident at the top mark the last time in the first race – Master crew may have to explain more, but I didn't know his arms were that long! The potential is definitely there, smashed every start (except the last race yesterday), we just have to hold on. Hugh and Soph (training partners) finally cracked the top five yesterday, so we know we both have the speed – just have to sail better! The regatta is so tight at the top, with Rick and Nick in 2898 leading from Craig and Gill in 2857, followed by the AA Team in 2799 (who were second to us at Airlie and Woollahra). These are three amongst probably the best top ten we have seen at a regatta in quite some time, which may help to explain to those at home why the results across the board are so up and down. First lady skipper team, Heather and Chris, 2883 are in fourth, they have been sailing so well! Full results.
Communication has been the most interesting element of this swap. Dad has been a skipper most of his life, so he is not used to talking. We are mechanically doing each other's jobs really well now – I have learned so much! The information feed from the front, and the decisions from the back are not quite there! Is like we have swapped mechanically, but we are still holding on to our old internal jobs – which is not so fast! We are improving all the time, especially me with my steering – so looking forward to see how we can finish up this regatta, even given the bumps along the way.
A massive thanks again to the Master crew, and my family for their support over this regatta! And to all at home – couldn't have kept holding on for this long without all of the texts, emails and support on Facebook!