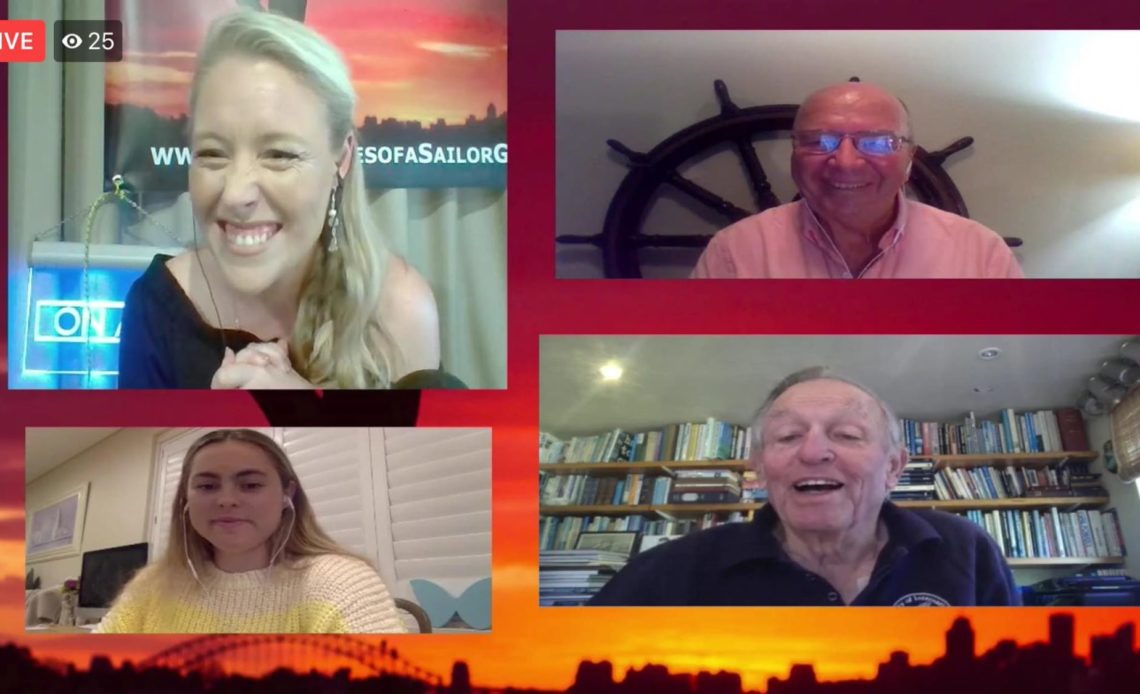 This week on Adventures Weekly the Sailor Girl, Nic Douglass took on the challenge of chatting with two incredible sailors and journalists, as well as being two of the founding members of the Society of International Scribes (SINS); Bob Fisher and Rob Mundle.
With 35 books, four world championship wins, and a serious and renowned passion for the America's Cup, it is no doubt that many refer to Bob Fisher as Mr America's Cup.
Rob Mundle on the other hand is known as the voice of sailing, with 19 books, a record for the longest live continuous commentary in history for the finish of Australia II versus Liberty in 1983, 18ft Skiff Grand Prix commentary, and a long standing history with Hamilton Island Race Week and the Oatley Family's Wild Oats XI.
"Was a pleasure to have these two gentlemen who have both contributed so much to yachting on the show – I have missed them over lockdown" said Nic Douglass about her most recent show.
If you are keen to hear plenty of behind the scenes action from two legends of the sport including memories from the America's Cup, Whitbread, Sydney Hobart, Fastnet, Olympics, and what the SINners got up to when not reporting, be sure to check out the show below.
When asked what their favourite events are, given the amount that they have been and are able to attend, both Bob and Rob expressed a great love for the America's Cup. On the modern day cup, Rob said that "the sheer excitement and thrill of the foils and rig developments, and the crashing and burning" in particular is a drawcard, for past and future sailing generations.
When asked what their favourite memory in our sport is both echoed one another's thoughts (they were unusually in agreement at least four times over the course of the show) on the win of Australia II in Newport R.I.
"It was an amazing moment and an amazing day" said Bob Fisher. "I don't think there is anything else in Australian history that will ever come remarkably close to the America's Cup" echoed Rob Mundle.
Interestingly, we had John Bertrand on the show to cover the Australia II win in-depth last week, but it was fantastic to have the additional views of Rob and Bob.
We also went over the themed trivia competition from this week, brought to you by Pantaenius Yacht Insurance! Congrats to our winner for this week, Jesse Dobie, who along with winning a prize pack from Pantaenius, will also join each of the winners of the weekly video competition for our major prize draw in December of this year!
If all goes to plan, Terry Hutchinson should be able to join us Friday morning in Australia, Thursday evening for this week, live on our Facebook page.
For more adventures in the meantime, head to www.sailorgirlhq.com, or @sailorgirlhq on Facebook, Instagram, Spotify, iTunes, or Twitter.