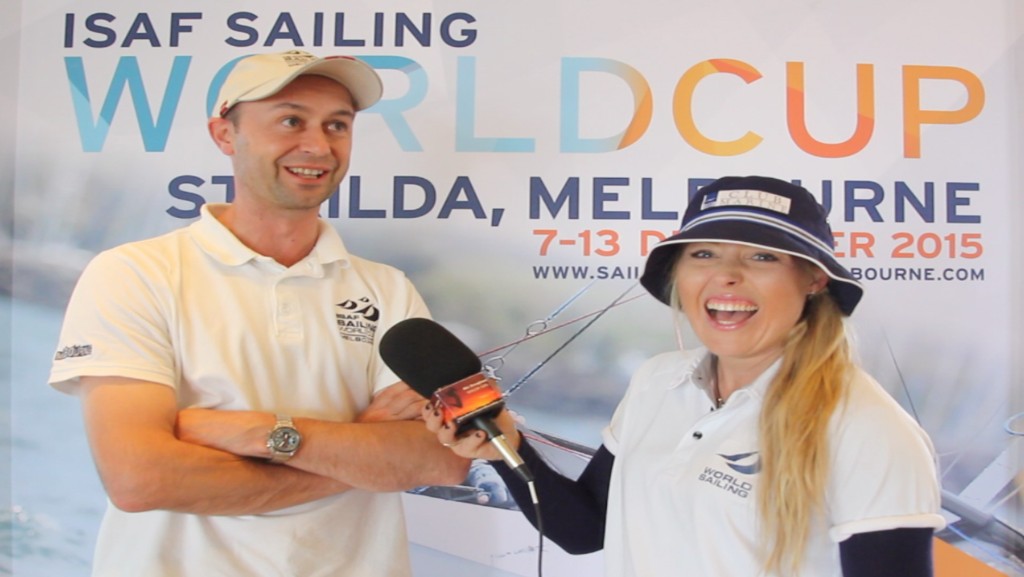 A day that started off with the OptiOlympics and ended with so many catch ups with youth sailors was never going to be bad!
Hope you enjoy the action from day 2 of Sailing World Cup Melbourne. Make sure you watch the wrap at the end xx
Sailing World Cup Melbourne Day 2: Hansen & Colley
Kurt Hansen and Jim Colley are using Sailing World Cup Melbourne and Sail Sydney as preparation events for the World Sailing Youth Championships. Was great to chat to them about pathways, training in their backyard at events like the Sailing World Cup, and what we can expect from the next generation.

Sailing World Cup Melbourne Day 2: Tom and Oscar Green – #SportForLife
Two brothers sailing Optimists, with a very proud and helpful mum (a sailor herself) behind the camera. This interview just shows how awesome sailing is as a sport, because it is #SportForLife…

Sailing World Cup Melbourne Day 2: Amelia and Pia
Amelia and Pia are on their way to the Sailing World Youth Championships, with Sailing World Cup Melbourne making up part of their training program. Great to hear about their dreams and aspirations in our fantastic sport.

Sailing World Cup Melbourne Day 2: Conway brothers
The Conway brothers have been sailing 470s for five years together, and their time and effort in the boat, and sailing together, including several Sailing World Cups in Melbourne (back to 420 days) is paying off. They are so far undefeated in the 470M class.

Sailing World Cup Melbourne Day 2: Lloyd & Elks
Tess Lloyd and Caitlin Elks had a great day in the 49erFX, even beating up on the boys at times, great to see! They are leading the class with four firsts and a second.

Sailing World Cup Melbourne Day 2 wrap
Mark Turnbull, gold medallist in 2000 and Sailing World Cup Melbourne Event Director joined me to wrap up day 2 at the St. Kilda Sailing Precinct which included the #OptiOlympics, and plenty of amazing action out on Port Phillip Bay! Just a brilliant day for racing and loving our sport!

More adventures…

@SailorGirl218 – Facebook/Instagram/Twitter/Snapchat