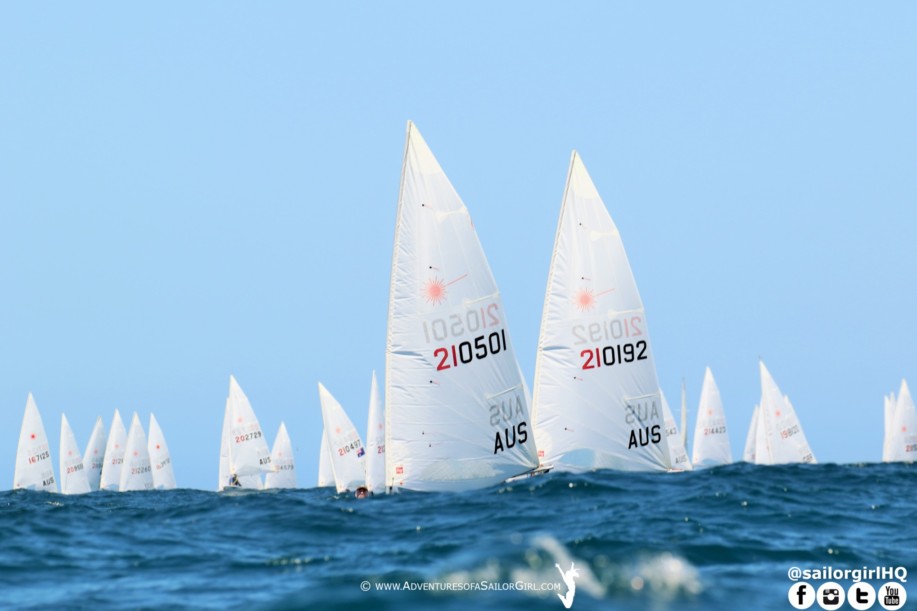 I am covering the Australian Laser Masters Championship at Mooloolaba over the 9-12 February while my Dad is competing. Keep scrolling to see the updates below as they happen…

Report for 9-10 February
The Australian Laser Masters Championship kicked off in Mooloolaba on Friday with 162 competitors in three fleets; the Standards, the Radial Apprentice, Masters & Grand Masters, and the Radial Super Grand Masters & 4.7's. Five races have now been sailed, with five left on the schedule and the first drop to come into play after race 6 today.
Two races were sailed on the first day, with the breeze maxing out at 13 knots oscillating around 100 degrees with a fair bit of southerly lump to keep all competitors on their toes.
Day 2 the breeze settled at 035 early for race 3, built to ten knots in race 4, and then swung slightly right as the pressure eased later in the day for race 5. The swell, which built to two to three metres, was a major player for those who could navigate accurately upwind, and surf one or two "high rollers" downwind in the lighter conditions.
For those that may not be afficienados in Laser Masters divisions;
Apprentice Master 35-45
Master 45-55
Grand Master 55-65
Great Grand Master 65-74
There is now a new category within the Great Grand Masters, the "Legends" those who are 75+. How they are still getting under that boom I will never know!
To prove that Legends really are legends (!), Kerry Waraker is coming second in the Radial Super Grand Masters division at present (14) at 79 years of age, behind Canberran Super Grand Master Martin Linsley (13), who had three bullets yesterday. Robert Lowndes is just another four points back (18), so it is definitely all on in the Super Grand Masters.
Arguably "the naughtiest fleet" as labelled by PRO Louise Davis, the major Radial fleet may start off a black flag for the rest of the regatta after one general in race 3 and three generals in race 4. You will notice a few of the "naughty people" were nabbed in the results from the 58-boat fleet.
Owen McMahon (12) is the current leader, with Mark Kennedy (13) in close second; both have sailed the tricky conditions beautifully to have worst scores of fourth and fifth. David Luketina (24) sailing Voltaren & Corona, so apt for a Masters event, is in third with a pesky ten in race one his worst score. Lyndall Patterson is currently in fourth position overall and the first female with an exceptionally consistent 1, 3, 2, 6 in races 2, 3, 4, 5 respectively. Watch out for her after the sixth race today when a drop comes in, she is currently counting a 21 in race 1!

In the "big rigs" or Standards with 70 boats in the fleet, only two points seperate the top three, with Nick Skulander (10) just ahead of fellow Apprentice Master, Matt Blakey (11). Brett Beyer (12) third overall and the first Master in the Standard fleet, had a massive win in the final race yesterday, crossing the finish line the final reaching leg in front.
"It was all about the downwind legs yesterday" Beyer said of his big win. And no doubt it will be the same today with similar swell expected and a bit more breeze, 10-15 knots from the North to North-East.
As you can imagine it is a massive effort to organise a fleet of 162, and the Maroochy Sailing Club and associated clubs have done a great job so far to keep the ball rolling along with their fantastic race committee.
Plenty more news to come as the regatta progresses, but you can keep posted via the links below, or head straight to my social channels, @sailorgirlHQ on Facebook, Twitter or Instagram.
Helping out on Day 1
I am definitely STILL not a Master, but I did sail Dad's boat back in for him today after he finished racing at the 2018 Australian Laser Masters Championships and I was done taking stacks of photos!

Live coverage on Day 2 – Race 3 starts
Gallery from Day 2
Live coverage on Day 3 – Race 6 starts
Gallery from Day 3
Report for 11-12 February – Final wrap!
(in progress)
Live coverage Day 4 – Race 9 starts
Interviews with the winners!