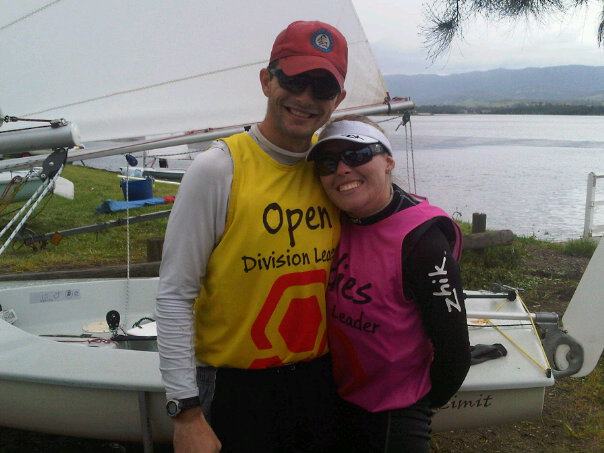 Yesterday was my first day of working in Sydney since the move was finalised two weeks ago. I am still working in the Australian Public Service, but now with the Office of the Australian Information Commissioner. Wow… I have had two great days! It feels a lot more natural than I thought it would to be back in Sydney. In a way it feels like the time I spent in Canberra has folded over to join when I last left Sydney; a time concertina. But my goodness so much has changed in my sport, and personal and professional lives. I am in a great place; my skippering has improved immensely, I formed so many life-long relationships, and of course commenced my career in the public service. The APS is definitely the place for me. I am missing Canberra, more so for the people, but the change has come at such a good time. I am very ready for new challenges!
Back to my sailing, which is the main purpose for all those who visit here?!
This weekend just gone Dad and I sailed the Tasar for the first time since the Worlds in the UK. Six months is the largest break we have had from the Tasar since our 8 month break in 2003, following the Canadian Tasar worlds. These were also Dad's first training sessions since his shoulder reconstruction. I had such a great few days on the water, at Georges River on Friday 23 March, and at Concord and Ryde on Saturday 24 March.
Just to spice things up, I am now skippering the Tasar, and will do so for at least the NSW States that will be held over Easter from the Illawarra Yacht Club. Dad's shoulder did not affect his crewing in any way; it was so good to be back on the water with him. The time out of the Tasar, and the majority of my summer spent skippering, also meant that it didn't feel weird for me to be up the back. In the past I have felt somewhat out of place. As Dad and I have been sailing together for 16 years, even in different positions, the crew work was surprisingly good. Here's hoping that I can get us off the line in good shape at the States and we will have a good shot and getting a pretty decent result. Dad has been told he is not allowed to sail in a breeze, so we are just looking at the States as a training exercise for me. There is no other one-design double-hander in Australia that can give you the experience of sailing in a fleet like the Tasar can! We will be back in the boat again this weekend for our last training session before the States. Massive thanks to Dad for being so supportive; coaching me over summer, and now also for crewing for me on the Tasar. It must be so tough to not steer when he has been on the coach boat all summer!  It is greatly appreciated and I feel so lucky to have such a great sailor helping me out.
Two weekends ago, Chris and I competed in the NSW Spiral State Championships (If you are not quite sure what a Spiral is, make sure you check out my multimedia!). Dad was there and managed to have his first sail on the spiral I have been sailing before racing. He also got a ride on the mark boat, and it was great to have him out there as always. The breeze was south-west to south-east; very puffy, and very shifty. There were quite a few additional challenges with starting sequences being out of sync and massively pin favoured lines really keeping all on their toes! This made for a very tough but exciting day of racing. James Burman, a newcomer to the class and entrant in the visitor division (better known for his achievements in the Laser class), showed us how it was done winning all three races. Chris and I both had consistent days, with Chris leading the overall regatta at the end of the day, and myself (just!) holding out the Ladies in seventh overall.
Chriso managed to win the championship even without any food in him, and I held on to the Ladies, but my goodness we were beyond exhausted!  My results were: 4, 9, 10, 5, 10. The second last race really took it out of me as I worked my way through the fleet following a tricky start, and I paid the price with a lengthy capsize at the last gybe mark in the last race. A few notable sailors who finished in front of me were James Burman (current and multiple NSW Laser State Champ), Chris Eddes, Glen Hammond (multiple NS14 National Champ), and Michael Nash (multiple classes National Champ) along with two other Spiral class stalwarts.  This was my most consistent score card so far as a skipper, so I was very happy with my personal performance, especially given the windy conditions and added fatigue on the Sunday.
We headed back to Sydney following the Spiral racing and went out to celebrate Laura Baldwin's upcoming marriage ahead of the pending Europe trip for Krystal and herself. Many many good wishes to Powder Puff and Razzle for their new and exciting adventures ahead, and also to Krystal for her European campaign. I have every faith that K-time and coach Razzle will be in London later this year! Stay tuned for a new team venture, the three of us and a certain Women's Match Racer may be teaming up for the SB3 Worlds in December this year!
Can I just say, getting home before midnight for the past two Sundays has been such an added bonus!
This Sunday just gone, Chris and I headed to Woollahra in the arvo for the end of season get together. It was great to see so many familiar faces… When I first moved to Sydney in 2003, Woollahra was where I spent all my free time. Sunday felt like a massive time warp, so familiar. What's new really? I spend all my spare time at whichever sailing club is close to me. Perhaps all my time concertinas between each of my sailing adventures? Or do I just feel more at home at a sailing club than anywhere else? In any case, I am very excited for all that is ahead for me in the next year!
Speaking of adventures, my 470 should have a place at Woollahra by the end of April, and I am looking forward to sailing with a number of people who are so keen to help me get to know the boat in more detail! Thanks to all who are just as excited about getting out on the 470 as I am! I can't wait to get out on the water!
In the meantime, look out all you Tasar sailors! Nic Douglass is loving being on the helm! This Saturday I should get a session in down at Ulladulla, and on Sunday I will be back at Woollahra for a two boating session, which I am really looking forward to. Hooray for having fun at work as well, which is all the more helpful to concertina my weeks so I can focus on my weekends on the water!