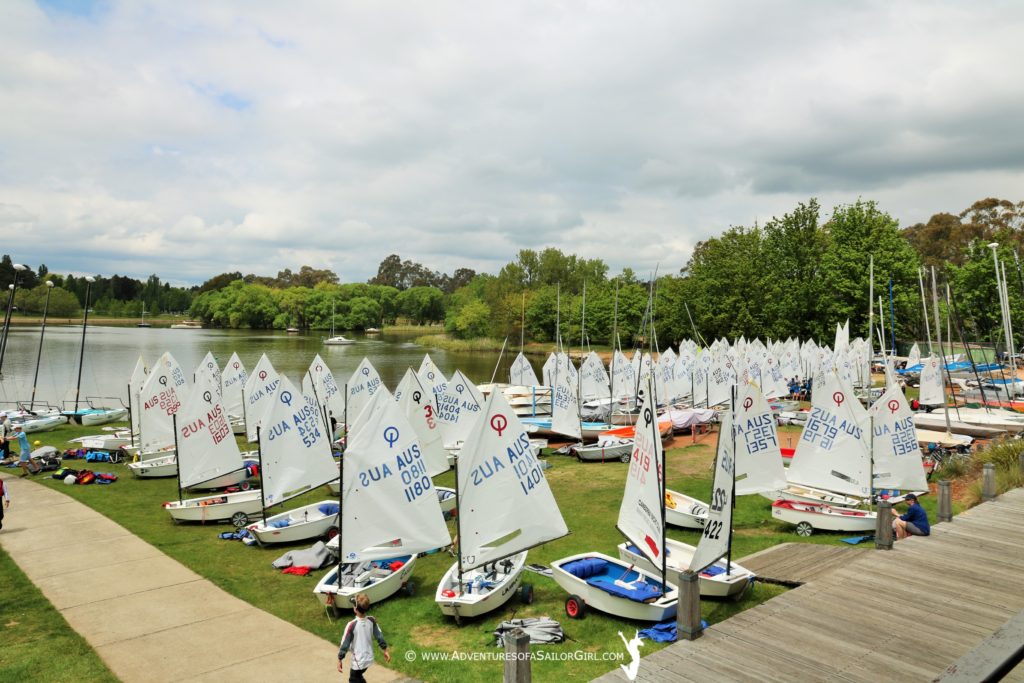 Day 1 of the Capital Insurance Brokers ACT Optimist Championships got underway today, with a record-breaking one design fleet of 126 boats on Lake Burley Griffin.
What an amazing sight it was to see all 126 competitors and their families readying for racing, even with a breeze that was delayed. Kids played soccer, while parents relaxed on their deck chairs waiting for the breeze to fill in.
The Nor'Westerly gradient battled with the Easterly sea breeze until well after 3pm, but the patience of the race committee (and Optimist families) was rewarded with two races being tallied on the board practically right in front of a huge spectator fleet on the greens of the club.
"We sat on the water for an hour, then the Race Committee sent us home" said Daryl Roos, a coach of the Canberra Yacht Club's Youth Sailing Program and Opti parent. "As soon as we hit the beach the breeze filled, but the RC were ready, and managed to get two really tight races away in five to ten knots".
Full results from the Open, Intermediate and Green fleets will be available via the NSW International Optimist Dinghy Association very soon.
Stay tuned for a full wrap of the event tomorrow, including interviews with the competitors and Optimist parents who have travelled from all over the state of NSW to take part in this regatta, known for a gentle introduction into sailing away from home.
For more adventures including full galleries from today head to
, or check out
, or
(@sailorgirlhq) or
www.AdventuresofaSailorGirl.com
, or follow Nic Douglass on Instagram or Facebook @nicdouglass.