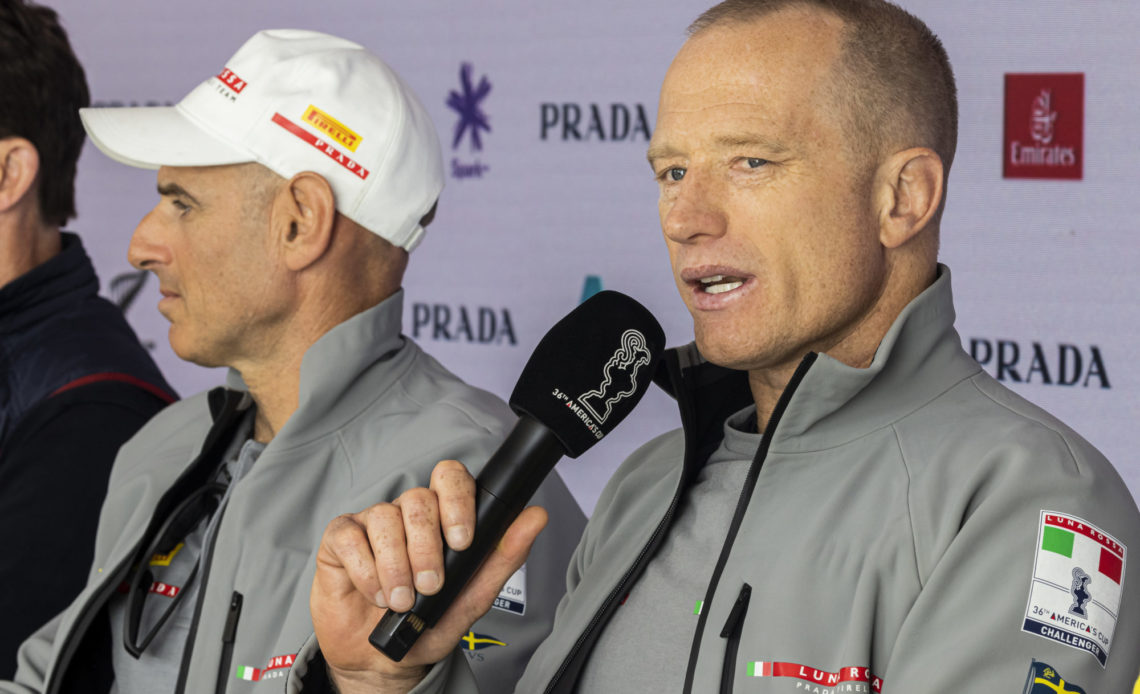 It's all on today in a must win race for Prada to keep the round robin series of the Prada Cup, the Challenger Series for the 36th America's Cup alive. James Spithill's mantra at the press conference yesterday, and one we have heard him say many, many times before was, "we have to win a race". This is the America's Cup, and really just all, in the greatest sense of the word that it comes down to.
I am really looking forward to having a great friend, and mentor, John Bertrand AO on the show this afternoon to really delve into the psychology, development and innovation of the America's Cup and to debrief the racing, but yesterday afternoon, we caught up with Tom Spithill to chat about what we can expect for today, his own achievements, our plan to campaign for the 37th America's Cup (#fakenews) and had a walk down memory lane to Bermuda and some "Shore Cream". We also announced that we have an on-the-ground #SailorGirl based in NZ, and we will hopefully hear a lot more from her over the coming weeks.
There were quite a few topics covered in the press conference yesterday, the most detailed to date. I thought it might help everyone to check out some of the key quotes organised by topic for your enjoyment ahead of the racing today!
Setup of INEOS Team UK – Six or Seven grinders versus the other team's Eight
"There is a lot of freedom in the rule, and as sailing teams we are able to divvy up the roles as we see fit, and in our case we sacrificed a few grinders and made trade offs in other areas. And we are pretty pleased with those trade offs that we have made. And we feel like we are racing well, hopefully that will continue". Giles Scott
"They're not too smart the grinders they only like going one way" said Ainslie laughing. They are [only one speed]. The grinders are working incredibly hard, and it's an efficiency deal. We've found, and as Giles said these decisions we made about a year ago, well more than a year ago, on the layout of the boat and the systems that we use. And our grinders actually had a lot of input with our engineers on trying to find the right solution and it's working out they are doing a good job. They are incredibly fit these guys, and we couldn't sail the boat without that fitness and that passion that they bring".
"It's pretty complex because you have to try and work out how much power the grinders can put down. I sort of joked earlier about them only grinding in one direction, but they actually like I said had a strong input into the efficiency of that system" said Ainslie later in the conference. And that in the end has freed us up to be able to get Giles, his head out of the boat, which is proving to be really helpful on these racecourses where the wind is so puffy and so shifty. But we really didn't know until we started sailing the boat for real on the water, and understanding these manoeuvres and if we could get enough power down to control the roll of the boat and get the sails in and out. These are all the trade-offs that you go through in design phase and then the practicalities of getting the boat on the water. It's working well for us at the moment, our grinders are doing a great job to power up the boat effectively one man down, so their fitness is really shining through".
Communication
On being a modern-day Coutts/Butterworth, Ainslie said, "there is a comms loop where a few other guys can input, our pilots Leigh McMillan and Luke Parkinson on how we are flying the boat. But yeah, Giles and I make the tactical decisions. We've raced together a lot back in the day in the Finn, we sail together a lot now, we get on well, on and off the water, and we've got a similar philosophy to racing, it's a good partnership".
"The big difference with these boats compared to traditional boats is that the visibility is so poor, and all of us run split crew, so being able to put the boat in the right position does require clear and precise comms. The tactical role on board our boat is very much split between Ben and I, so yeah we need to be on the same page there. We have spent a lot of time trying to make sure those comms are good and we are talking about the right thing" Giles Scott.
"I think we still have a long way to go, as it has been well documented… our race prep for this series was really poor. The last practice days before we started racing we had a number of issues. So we [Giles and I] are going through all of these different scenarios trying to work it [our communication] out, a credit to Giles… We still have a long way to go" praised Ainslie.
"Clear and concise" said Jimmy when asked about the communication on board Prada. "That's exactly what it is… It's been a lot of fun actually sailing with Keko, we've actually competed a lot against each other, worked together in the past, and it's great too because we're able to not only discuss tactics at the end of the day, but also the performance of the boat. We both spend a considerable amount of time driving the boat, and flying it, so we have a unique perspective on this combination."
"The other guy that plays a really big part in not only the performance but the strategy on the water is Pietro Sibello, who is a fantastic sailor out of Italy, he really fits into this mix really really well. You know essentially we've got three guys involved and it's proving to work very very well and we're getting stronger every day that we go out" said Jimmy on their combination.
"Real racing is where you are really tested in terms of that system, in communication and making race calls and we are certainly going to get a lot of that tomorrow" finished Spithill.
Input of racing teams, such as Mercedes or Pirelli
"Mercedes have been a massive help through the entire campaign" Ainslie commented. "We have been working with them for the last two years, they've helped in a number of areas in terms of the design-manufacture of our boat components, and they have been helping us to analyse some of the issues we have had over the past couple of months… yeah I can't go into too much detail. But needless to say they [Mercedes] have had a really big impact on our team and massive help and that comes right to the highest level, Toto Wolf [Team Principal and CEO of the team], James Alison [technical director of Mercedes-AMG Petronas F1 Team], John Owen [chief designer at the Mercedes AMG Petronas Motorsport Formula One team] guys like that who have been helping us on a weekly basis to review where we are at and help us with suggestions on how we can improve; they have been fantastic partners".
James Spithill was quick to join in the chat stating, "So look the majority of our partners have been fantastic in terms of support. I mean the beauty of Pirelli is that we're not just dealing with one team, we're dealing with a company that deals with all of the teams, you know in motorsport out there, and a lot of different development and performance programs. So for us, to deal with someone like that who gets exposed to all of them, as exposed to one, is a huge upside. You know Pirelli has been a supporter and in the America's Cup for a while, so they have a good track record, and a good background, and experience, so they know what they are dealing with, it's not their first time here. So that's a big upside, and they have played an important role whether it be, you know analysing, whether it be providing components, it's been a good relationship".
The last match up between INEOS and Prada
"We had the luxury to have almost had one full race extra and every race was very intense, there was never a big margin for anyone who was leading so there were a lot of tactic calls and the race was very intense" said Bruni.
"We took an awful lot of lessons from racing these guys the boats are reasonably well matched in terms of performance… the winner and as a hole will be the boat that races better" commented Giles Scott.
Saturday and Round Robin 3
"I can promise you that we are really really focussed on tomorrow. We don't need to look to far into the future. All we need to do is really focus on getting out there tomorrow and having a great race and I am sure that is the same for the other guys up here as well" said Jimmy on tomorrow and the rest of the Prada Cup.
"Well it buys you time, and as we all know time in this game is everything" commented Ainslie on what winning would mean in the round robin phase. "And the flexibility to make upgrades to the boat. Some upgrades you make might be an overnight job, some take two, three, four days. So it buys you the flexibility to changes a few things that you wouldn't otherwise get the chance. So it's going to being to significant in the overall outcome of this Cup".
On whether Luna Ross will sail on Sunday if INEOS win today
"From our point of view the races are scheduled", said Iain Murray, Regatta Director. "And I think the indication from the teams are that their keen to race, but all races with these boats it is subject to the boat being ready… Ultimately a team can choose whether they are racing right up to start time… we are hopeful that we will know Saturday evening on each team's intention to race.
"Training is always good, we just have to check the status of the boat, and what we need to try to get better. For sure racing [on Sunday] is an opportunity" said Francesco Bruni.
"No desperation, we don't get desperate in Luna Rossa, it's more excitement" said Jimmy after swigging some Red Bull. "It's just a great opportunity because there is a real incentive here for both these teams to win tomorrow's race. If we do that then there is a lot of incentive for Sunday as well. So there is a lot on the line and that is a great test for the two of us".
On American Magic
"Regarding American Magic, there's no doubt in my mind they will be back" said Jimmy decisively. They were very very quick obviously leading into this competition, I don't expect that to change when they make the repairs and come back. But for now we can't worry too much about them, all we are focussed on is tomorrow" he finished.
"Exactly we take each race at a time, and I mean hats off to American Magic, for how they have responded to the incident and by all accounts getting back on track for the semis" said Ainslie. "And as Jimmy says they are a top outfit, and they are going to be dangerous. So there is a lot a lot on the line for both of our two team here in terms of getting that direct route through to the final, and that obviously buys you quite a bit of time in regards to making further upgrades to the boat. One race at a time and we are looking forward to it".
"Obviously they have a huge amount of work just to make the boat operational, whether they incorporate changes or put the boat back together as it was we will have to wait and see. They are planning to be on the water before Wednesday to test their systems" said Iain Murray, Regatta Director.
Regatta Director Iain Murray also announced that in the event of a yacht capsizing during a race, the Umpires will terminate the race immediately and the point will be assigned to the opponent, rather than having to wait until the yacht receives outside help.
Luna Rossa Prada Pirelli RMS System Issues
Jimmy Spithill was quick to divulge that Luna Rossa Prada Pirelli had battled significant issues with their course management system last Sunday, "yes we had significant issues… the last race against American Magic we were blind, we had nothing. The only thing that we had that was working was a, ahh well I don't know, a $50 stopwatch, timer. And that was it. You know that's how Keko and I and the boys had to do the race. So it's a full credit to the team actually to get off the line well, and get out there and stay in the race… and I think only get one boundary penalty. But yeah, so we did have significant issues there".
Emirates Team NZ development
"In terms of the Kiwis, ahhh, we yeah have guys following them, we're keeping an eye on them, we know they just launched a new foil, they look very very sharp. But to be quite honest with you, we really need to focus on tomorrow. 100% of the team is focussed on going out there and getting a win" said a very focussed Spithill.
Let's see how it all pans out today! As always, there is so much more on our channels, head to www.sailorgirlhq.com, or @sailorgirlhq on Facebook, Instagram, Spotify, iTunes, or Twitter.