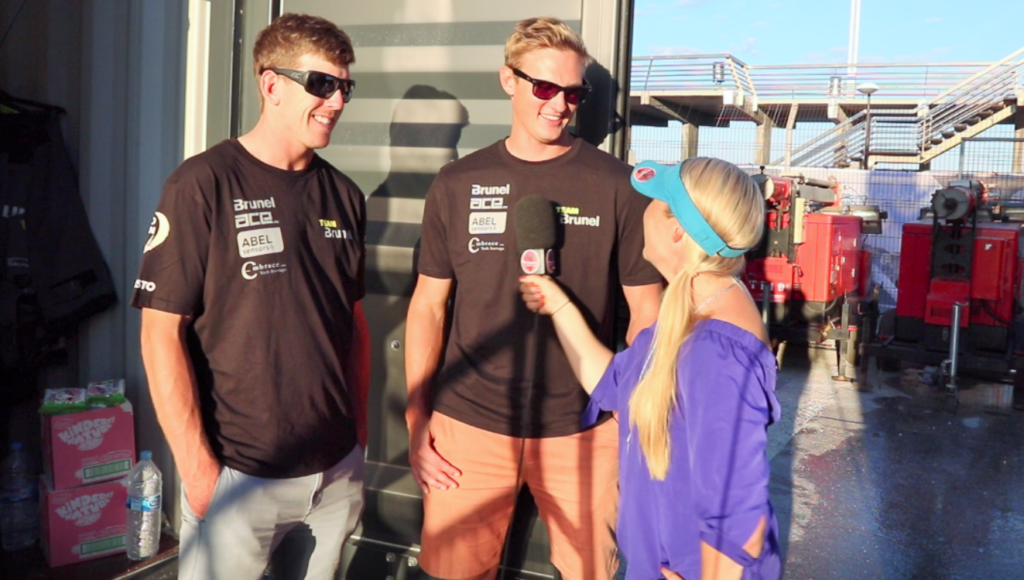 20 October – in the mix with some favourites
After what seemed like an endless amount of "leg zeros" the Volvo Ocean Race is now in full wind up to the first leg where points will count on Sunday. Even though it is a short leg to the race's somewhat quasi home in Lisbon, it is real now, and the sailors are keener than anyone to see the "real" racing get under way.
Here are a few of my catch ups with just a few of my favourite sailors while in Alicante. I have more lined up for tomorrow, with the remaining teams DongFeng and Brunel, and whoever else I run into. You can also check out the first skippers press conference in full below.
Luke Parkinson – Scallywag

My first interview from the 2014-15
was with
or Parko when he was about to kick off his first lap with
. At just 27, he has won the Volvo, raced at AC35 as part of
, and now is back for his second lap with the Hong Kong team that happens to have a lot of Aussies on board,
.
Tom Johnson – Vestas 11th Hour Racing
My first catch up in Alicante as we lead into the start of the
on Sunday! Here with
down on the dock to chat about some unfinished business with
. He was onboard with Vestas last edition when they ran aground, went on to race with
for the AC, and now is back to complete his lap of the planet!
Brad Jackson – AkzoNobel
My next catch up ahead of the
2017-18 was with Brad Jackson on his new role as skipper for
. This will be Brad's seventh round the World race as a sailor, last edition he coached Team SCA. The last time we got to chat was at the end of the Fastnet when the team were starting to gel midway through "Leg 0". I spoke to him about the hurdles of the last week with a 'changing of the guard', where the team is at, and the support for him as a skipper, what is ahead on the "mini" leg to Lisbon, and beyond…
Rob Greenhalgh – Mapfre

My first interview with the current
'favourite'
was with all-rounder
. We chatted about the Mapfre family, and why he has come back to sail with them again, the new additions to the crew (including Soph and Blair – interviews up shortly) and what we can expect from the next Volvo.
Stacey Jackson – Vestas 11th Hour Racing
My catch up today with the Sailor Girl I have arguably interviewed most over the past few years (and sailed with too)! Last
she was heading off on her first lap of the planet with Team SCA, now
is back, and ready to take on her second race with Vestas 11th Hour Racing while pushing an important environmental message. Good luck Stace, enjoy getting out on the ocean.
PS – Shout outs to
and Henry,
and
I said hi for you
Sophie Ciszek – Mapfre
Catching up with the unstoppable Sophie Ciszek​ at the Desafío MAPFRE​ ahead of the Volvo Ocean Race​ start on Sunday. Soph is ready to go, and hoping that Mapfre keep the early momentum they have right through the race, her teammates meanwhile are happy to have her strength on the bow! Great to catch up with so many Sailor Girl's today!
Dee Caffari – Turn the tide on Plastic
THE female skipper of the
for this edition,
. Was great to catch up on the sailors within the team and their progress, as well as the significant environmental message for
, an issue we all need to be aware of, not just as sailors, but as humans. I hope to catch up with a few more from this team tomorrow!
Blair Tuke – Mapfre
My last chat for today was with Blair Tuke​ who is set to take on his first Volvo Ocean Race​ with Desafío MAPFRE​. We spoke about how he is fitting in, what he brings to the team, what the first twenty days at sea will be like, the rivalry between himself and Peter Burling​ and what aspect of sailing he prefers, from skiffs to foiling cats to offshore, given that he seems to be good at all of them??! Good luck Blair.
Plenty more catch ups to come tomorrow before the start on Sunday.
Skippers Press Conference
21 October – more interviews, more jacks of all trades
There was plenty happening in the village on 21 October; another change to the AkzoNobel skipper, and for myself plenty more catch ups with sailors who are all keen to get out there and do what they do best. From females to first timers, sea sickness to sailing with arch rivals, there is definitely a lot to cover with this talented bunch!
Daryl Wislang – DongFeng Ocean Racing
Another massive day of catching up with
sailors ahead of the start tomorrow. First up today was
, who won the last edition with
, and is back to race with
. We chat about the new team, the language barriers, and the strengths of the team that
has developed. PS "AC Tragics" this one is for you!

Chen Jin Hao – DongFeng Ocean Racing
It was my pleasure to catch up with my friend Chen Jin Hao today ahead of his second Volvo Ocean Race start with Dongfeng Race Team – 东风队 tomorrow. His enthusiasm for sailing is just infectious; after his first Volvo last edition he went home and set up a sailing school in China which he now runs in his spare time. Hear all about his Volvo journey, his sailing school and how DongFeng are inspiring so many Chinese to get involved with sailing! Love it!

Carolijn Brouwer – DongFeng Ocean Racing
My catch up with the first female to be signed to a team for the 2017-18 Volvo Ocean Race, Carolijn Brouwer. Great to get Carolijn's insights on fitness, what she is bringing to the table and DongFeng as an overall unit before heading off on her "2.5th" or third around the world race; Carolijn was with Amer Sports Too for both Southern Ocean legs in 2001-02 and Team SCA for the last edition.

Abby Ehler & Annie Lush – Team Brunel
Great to catch up with the two female sailors on board with Team Brunel for the 2017-18 Volvo Ocean Race. Both Abby Ehler and Annie Lush were on Team SCA for the last lap of the planet, and now they are back, and more than holding their own. We talk about what their roles are on board, what they need to get through the tough times at sea, and whether females are making advances in offshore sailing…

Annalise Murphy – Turn the Tide on Plastic
Silver medalist in the Radial at Rio, Annalise Murphy​ will double her offshore miles by the time Turn the Tide on Plastic​ reach Lisbon for the first Volvo Ocean Race​ stopover! Listen in to my chat with her ahead of the start today about the great challenge ahead for her, and how excited she is about this "once in a lifetime opportunity" even though she does get a little sea sick (like many of us!). Good luck Annalise!


Annemeike Bes – Scallywag
Another silver medalist, Annemieke Bes​ won silver in the Yngling in 2008 and now she is set to head off on the Volvo Ocean Race​ with Scallywag​ today! Bessie trained with Team SCA but wasn't selected to do the last race, and then for this edition she was originally on Team AkzoNobel​, but opted to leave to join the Hong Kong (slash Aussie) contingent. (Give the events of yesterday this could have been the best career move ever!)
Hope you enjoy the chat, for me personally I have spoken to a girl from every team (except AN) which has been inspiring and I look forward to catching up with these amazing ladies at the various stopovers I will be heading to!


Pete Burling & Kyle Langford – Team Brunel
Rivals for the past few years, Peter Burling​ with Emirates Team New Zealand​ and Kyle Langford​ with ORACLE TEAM USA​, these guys will head off on their first Volvo Ocean Race​ today as team mates on Team Brunel​. We chat about what it has been like prepping for their first Volvo, why the are doing it, and what is up next!


22 October – the dock walk and the start
The Dock Walk

The start – photo album