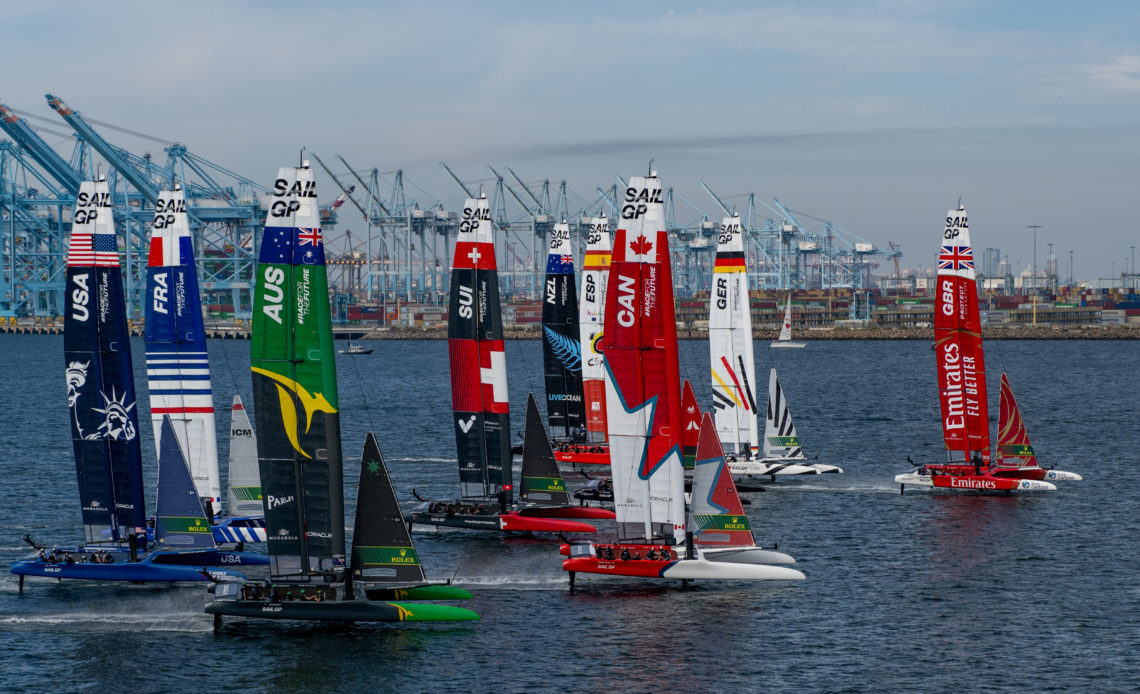 The first day of the Oracle SailGP Los Angeles showed a slightly different hand to what was expected, as the sea breeze battled in later than expected. The result was a course with different conditions on each side, making strategist calls critical and big gains and losses throughout the fleet in all three races.
Consistency paid at the end of the day, with the top four separated by only four points. The top seven teams all remain in contention for places in the final race, with hopes the sea breeze will bring a more consistent race course no one will be starting the day feeling safe.
Australia and Emirates GBR were the standouts of the day, each delivering a dominant race win and showing their ability to recover at various points in the day. Rockwool Denmark took the win in fleet race two, which along with a third and fifth place saw them finish the day on equal points with Emirates GBR, just two points behind Australia. Spain will be looking to carry their momentum into Sunday's racing, finishing on a high with a second place in the tricky third race of the day.
The under-the-spotlight USA team showed glimpses of form throughout the day, frequently tussling with Spain on the course. They made some excellent strategic calls across the day, but were hurt by a number of small mistakes and straight out boat speed at times. Finding themselves in unfamiliar positions, including infringing on the USA team in race two, New Zealand struggled with their starts in race one and three which left them with too much to do and sees them seventh overall, on equal points with USA.
As teams cross their fingers for pressure on the course for Sunday, for several teams the off-water pressure surrounding their futures in terms of sponsorship and team ownership is set to bring more drama through the weekend with more bound to follow in the coming weeks. We'll keep you up to date on all the developments.
To watch the day two action check this link and follow along with @sailorgirlHQ.