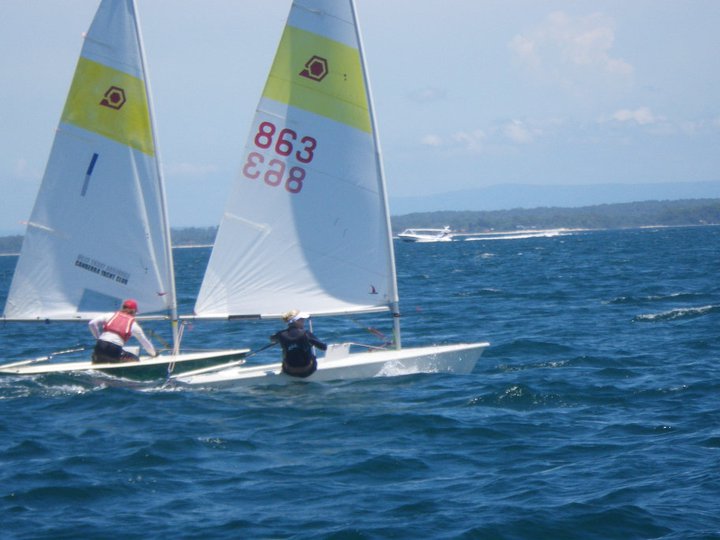 Day two at the Spiral Nationals was definitely tough as predicted following day one. The breeze was up compared to the first day, but had larger shifts from the E-NE direction due to more cloud activity. It was definitely a sail to the pressure kind of day, which at times felt a bit like the tennis… left… right… left… ace… right… right… unforced error… saviour backhand… how good has the tennis been! Anyway, back to the sailing!
In the first of three races, race three, I found myself on the wrong side of a right hand shift and had to work back through the pack (after multiple general recalls and a black flag start). Super coach Rob Douglass tells me I rounded in 31st (which was not quite as bad as the first top mark in race two). It wasn't all bad, unfortunately there were good guys behind me, like Chris Eddes, and Tom Spithill to name a few. The three of us managed to work through the fleet to finish somewhere in the middle, but closer to the pointy end. I was too busy working to count boats, and there are still no results so I have no idea where I am after race two and three! Races one, two, and three were triangular courses.
Race four was the first trapezoid course, and my performance was much better. I had a great start on boat up from the pin (following one general recall), and even in the stronger wind, managed to round the top mark in eighth. I stayed within striking distance of the front pack for most of the race, at times almost getting through to third. I finished in fifth, with Chris Eddes taking his second ace of the regatta when he cleared out on the second work.
Race five was also good, but following a ripper start, I got locked on the left for longer than I would have liked. I rounded the top mark in the late teens, and worked hard on my positioning to gain boats wherever possible. I think I may have gotten up to top ten, Chris managed a fifth. Hopefully there will be some results available today so I can know where I am at, and fill you in.
I am the first lady at the moment, however, Maria on 871 from Concord/Ryde is sailing really well and is not far behind (I think?)… She has beaten me in two races out of the five so far (the races where I have found myself digging out of my unforced-errors), never by more than two boats.
Overall, Chris Loring will still be in first, Chris Eddes in second and after a broken mast in race four yesterday Glen Hammond will more than likely be in third. Tom Spithill is still not far behind the front three. I wish I could post a link to the results here! Hopefully today (???).
In other sailing, Congratulations to the ONLY girls who made the final in Miami. Fantastic stuff guys! Safe travels to the other Aussie team, the Aus Match Racers, who will no doubt bring it in the next regatta!
For more during the day, I am on Twitter with instant updates, and there are a few videos and images available in my multimedia.
Off to do it all again! Here's hoping for more ace-like results for Chris and myself!