The P&O Marinas Dubai SailGP gets underway today as teams head into the second part of Season Three with eyes already focussed forward to the San Francisco finale.
"We are third overall, it doesn't mean that we will be there at the end of Dubai, but we must be there at the end of SFO". Quentin Delapierre, France SailGP Team 
All driver's were refusing to rule anything out ahead of yesterday's practice racing, with all looking to take valuable points from this first-time venue, which will no doubt bring new fans to the sport of sailing.
Jimmy Spithill spoke about the new audiences that are being drawn to sailing, with the release data recently of a record 1.6 million concurrent viewers of the Cadiz event on CBS in the USA.
"It really was a new audience, we know the racing audience in the US is interested, but this is encouraging for the sport and it really warrants another event for the US".
Jimmy Spithill, USA SailGP Team

Practice racing saw Australia dominate with a 3, 1, 1, however they were second to a dominant Spain in the practice final. Shifty conditions across the short course made clean air and position vital, a preview for what is expected for day one of racing.
They appear to be the in-form team, and driver Tom Slingsby commented on their ability to come back, which was shown in the first practice race where they moved up from 8th to 3rd.
"We've had some rough events this year, some good ones and some bad ones, our bad events have been 5ths and 4ths, when things aren't going our way we managed to make it a decent result instead of shocker".
Tom Slingsby, AUS SailGP Team 
But regardless of form, all are saying that this race track is going to be exceptionally challenging.
"Looking at how compact and tight the race course is it's going to be very difficult to break free of the other boats. The challenge here will be trying to get free of the other boats and having a choice of when you are going to manoeuvre".
Jimmy Spithill, USA SailGP Team

The majority of the day saw tight racing in the middle of the fleet, with very few passing lanes – reflecting the predictions from the Drivers Press Conference earlier in the day.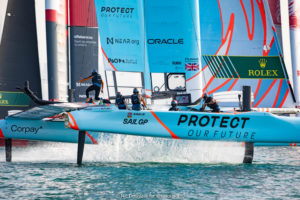 "All of the teams have had challenges we have to try and get some more consistency. It's the nature of this season, one minute you are leading and the next minute you are last, all of the teams are learning to adapt to that but it's what makes the racing so tight".
Sir Ben Ainslie, GBR SailGP Team 

There was no holding back in practice from Peter Burling and the New Zealand team, using aggressive tactics to hold boats across all three practice races. The Kiwis were also the first out training ahead of racing today.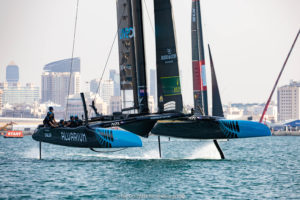 "We're obviously frustrated from Cadiz, but in saying that we learnt a whole heap. We will be a lot better as a unit because of it, and we're just looking forward to going out and putting our best foot forward here this weekend".
Peter Burling, NZL SailGP Team
Speaking of hungry Kiwis, Phil Robertson, the driver for the Canadian Team is ready to come out swinging in Dubai and reports that his team have done more study than any other.
"I don't mind a dog fight; put me in the ring and I'm going to swing, on a tight race track like this especially with the people next to me it's going to be fun, it's tight, it's small – get pumped. Everyone is vulnerable, don't think anyone is safe. We are gaining experience on these top teams, the series isn't anywhere near complete, I haven't written us off and I never will so standby for action.
"[We've done] a lot of study. One of the cool things about SailGP is that it's open source, we can go home and watch videos of any team and listen to all their comms. I can assure you that we're watching every single second of it.
"Not only that, we can dive into all the data from these boats. You can really pick it apart and you're working pretty hard every day to make sure that you are making gains in any direction or any way you can".
Phil Robertson, Canada SailGP Team
Regardless of the results this weekend, all are now aware that they are fighting for a spot in the overall final in San Francisco, the "home" of the SailGP.
The series leader ahead of today, said it's all open and up for grabs.
"It's honestly getting more and more open, which teams have won events, obviously NZ have shown they can win events, they are not afraid of the pressure, France, USA, to me I think the biggest threat is someone who can perform in a final and win that last race, the teams are getting stronger, and it is all a lot more open".
Tom Slingsby, AUS SailGP Team
Live action from the first practice race is here.
Day one of racing is set for action with a 9-13 knot breeze forecast, big wings and light air foils on the F50s.
Head to www.sailgp.com/watch for more information on how to watch live in your country. We will have more post-racing.