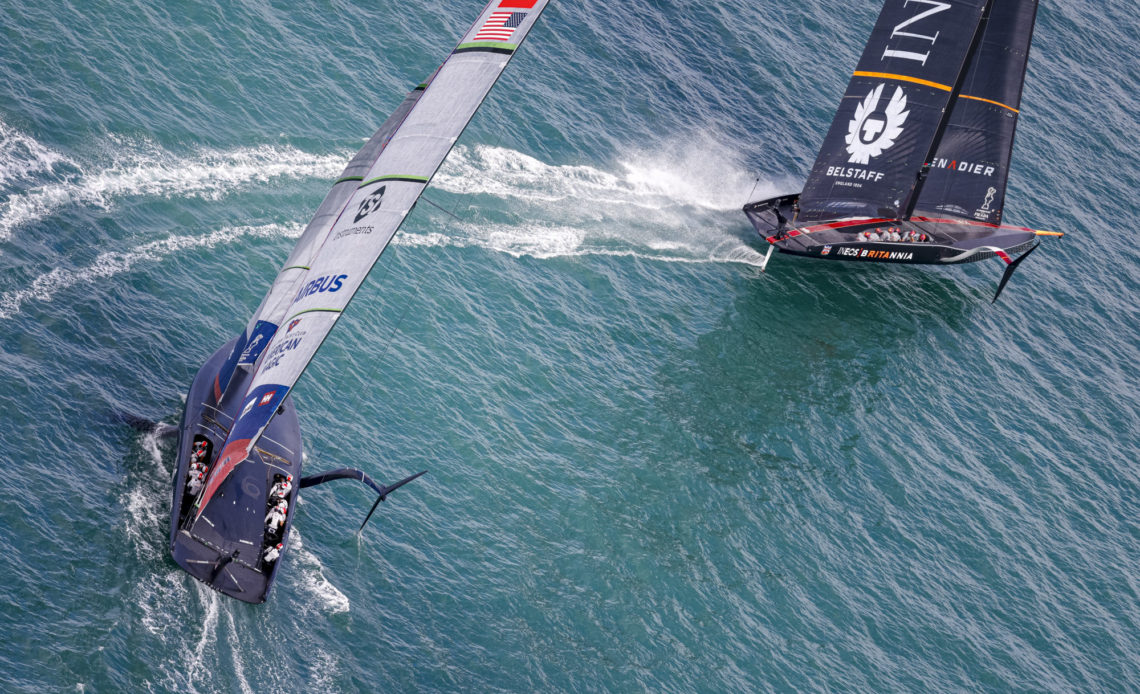 "Sometimes you are the bug, and some days you are the windshield" said Terry Hutchison of today's Prada Cup racing. "At any given moment all the teams were dealing with the same thing, I guess we drew the unlucky number in the lottery" said Hutchinson of today's race track.
Luna Rossa Prada Pirelli posted their first win in race three over the American's, and in what ended up being a race against the clock, INEOS Team UK also took their third win from three races against American Magic in the fourth race of the Prada Cup, the first of Round Robin 2. They finished at 42:44, with a maximum allowed time limit of 45 minutes in what was described so well by Terry Hutchinson as a "connect-the-dots breeze day".
Welcome to day 2 – AC Chat & Wrap
Debrief for day 2 – AC Chat & Wrap
As the only team to not post a win so far in the Prada Cup Challenger Series for the 36th America's Cup, all eyes and ears were on the NYYC American Magic sailors.
"I would suspect our foil is small" he continued to attempt to explain why the team found it difficult to stay on their foils today.
For those watching, they also had a smaller headsail than Luna Rossa Prada Pirelli up for race three of the series. "We didn't expect to be sailing in that amount of breeze, was a bit of a surprise that it got late light" said Dean Barker as he took off on the foils in between race three and four today on the broadcast.
"You hedge, when you designed the boat two years ago, you are making decisions on what you think the conditions may or may not be… We have to continue to stay committed to learning to sail our boat, learning how to race our boat" said Terry post-racing.
"For sure we stayed on the foils for longer, otherwise we would not have won the race" commented Bruni, "as Terry said, very hard conditions, we have definitely bigger foils so it's a little bit easier for us, but if you are on the wrong side, or if you don't connect with the next puff you may lose the race".
Bruni was nothing but complimentary of the Americans, "at one stage our American friends did a very good job of overtaking us, and we were worried, we are [were] nervous, but we keep ourself [ourselves] calm and waiting for our moment… it was not easy. It was a minefield". On the racetrack, Bruni commented on how hard it is for Italians to stay calm, especially in those conditions which brought light to the situation, especially when we know they have been gearing toward the lighter end of the spectrum. "Not easy conditions at all, right on the limit for racing, but we know the limit, and we were just above at the start time, otherwise we would not have had a start".
Ben Ainslie said on the team's third win from three races, where they seemed to be toying and playing with American Magic at the start, sailing to leeward and then tacking to cross while they were foiling and the Americans were low-riding; "That was a pretty tough race I have got to say given what is at stake, I think it was actually toughest for the grinders trying to keep the boat up on the foil… if you come off the foil that could be the end of the race… we managed to muscle it around and get the win, so we will take it!"
"Today really was all about just staying in that wind, and ultimately every team was going to fall off the foil at some point today, and I think to win you needed to have a package underneath you that was capable of taking off well" said Giles Scott from INEOS Team UK.
"It really is about keeping the boat on its legs… you can be sailing around at 35 knots, or you can be in the water doing 4 knots. So your direct course to the next mark doesn't really matter a lot of the time".
"We've raced together since 2014, I joined Land Rover BAR in the last Cup and previous to that I raced against him as well. We go back a reasonably long way in the competitive sailing world as competitors and as teammates" said Scott on what we all heard was an exceptionally strong communicative bond between Ainslie and his tactician today. The scores now stand at 3 from 3 for INEOS Team UK, 1 from 2 Luna Rossa Prada Pirelli Team and 0 from 3 NYYC American Magic.
Tomorrow we will see Luna Rossa Prada Pirelli race twice, first up against INEOS Team UK, and then NYYC American Magic in what is sounding like breezier conditions.
We will be live with our preview and debrief shows each day, with guests starting from next week!
For more adventures, to catch up on past shows, or to suggest a sailing "die hard" that you would like to see interviewed, head to www.sailorgirlhq.com, or @sailorgirlhq on Facebook, Instagram, Spotify, iTunes, or Twitter.