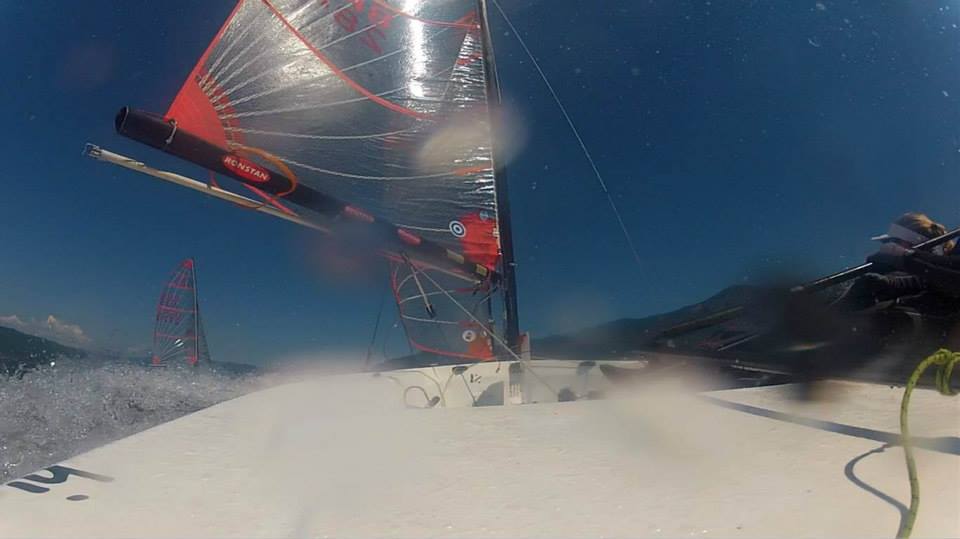 What a Monday it was yesterday.
We finally got to see the Gorge in full swing in a great training session with the Aussies that are already over here (or not off travelling!).
Today, Tuesday there is more expected of the same. 18 knots plus, sunshine and of course for me, sailing.
The North American Champs finished up on Sunday, a very tricky series. As the locals often say, it is not usually lightish and flukey (see below for the reason it was not 'normal')… Now we have figured out it is just windy, and flukey, plus the current, and warm. So warm in fact you feel like you are being cooked alive before you actually get on the water.
The Americans sailed exceptionally well over the weekend, to take the first four places from a total of nine races. Canada was in fifth, we finished in sixth, with another American in seventh, then a big gap (20+ points) back to eighth. We learned so much, being the third best performing boat on day two, and we can pin point where a number of our major errors were. Often more than half of the battle to making the big jumps. Below I was running a little repair during racing on Sunday. We also went back for the last start, and still managed a fourth, so we are pretty happy with our speed. Just need to keep working the boat hard, especially once the breeze gets up.
Looking forward to getting out there again today…
Finally starting to get over the jet lag and feel like a real person. It was definitely not just any Monday. More soon!