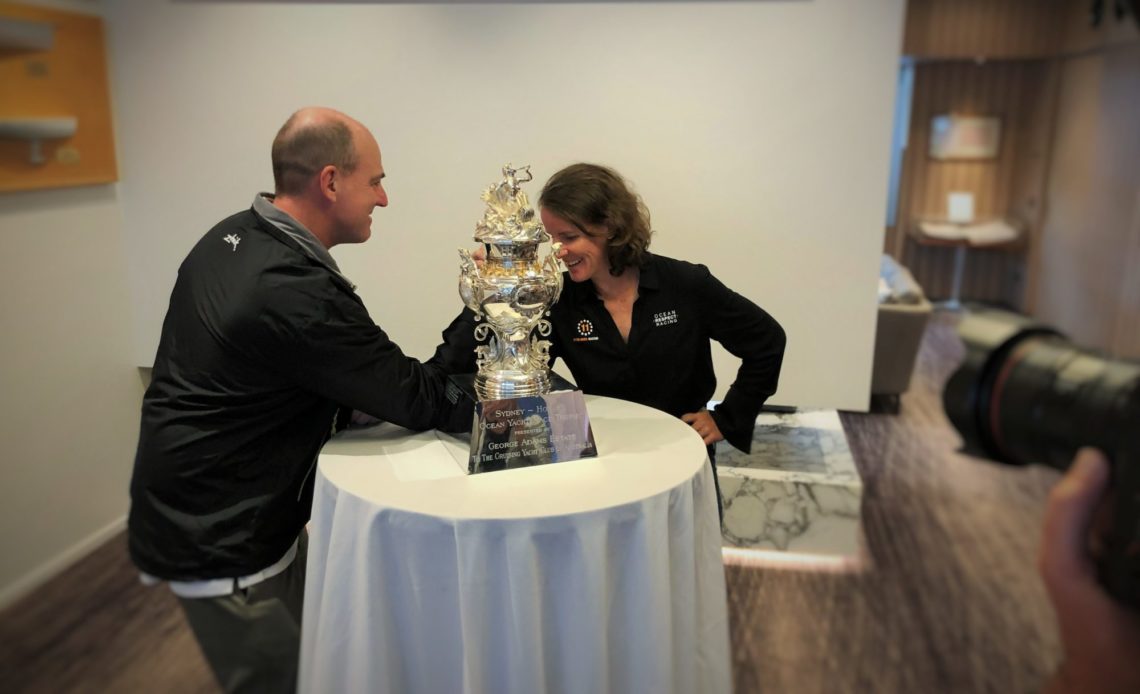 The Cruising Yacht Club of Australia's 2018 Rolex Sydney Hobart Yacht Race promises to be another pot boiler, with one of the strongest-ever fleets chasing line honours and the overall win to secure the Tattersall Cup.
A fleet of 91 will take to the 628-nautical-mile journey – those from NSW, South Australia, Tasmania, Western Australia, Queensland and Victoria joining the international set representing China, France, Germany, Hong Kong, Hungary, Poland, Russia, the UK and the USA.
Five super maxis, 13 international entrants, 10 TP52s, one of the healthiest representations of 60-70 footers seen in years, smaller boats – and veterans that linger, resilient against the power of the newer models in the field – make up this year's fleet.
"When you look at the list of entries, there is a real feeling of depth and quality," CYCA Commodore Paul Billingham says.
At the pointy end, the 'supers' and the larger grand prix boats will have Comanche's race record of one day 9 hours 15 minutes 24 seconds in mind as they sail down the coast to Hobart.
Since launching in 2014, Comanche has flexed her carbon muscles around the world – but the Oatley family's Wild Oats XI, with a record eight line-honours triumphs, inclusive of two triple crowns, remains Queen Bee.
When owned by American Jim Clark and Australian wife Kristy, Comanche took line honours from Ragamuffin 100 in 2015. Jim Cooney and Samantha Grant bought Comanche within days of last year's start. A race-long battle with Wild Oats XI ensued – Comanche came off a close second best, but inside the race record. However, 'Oats' was penalised one hour for a port/starboard incident with Comanche early in the race, translating to line honours and the new record for Comanche.
There are three other super maxis in the running and Peter Harburg's Black Jack, Seng Huang Lee's Scallywag (Hong Kong) and Christian Beck's InfoTrack crews will be holding nothing back. Who knows how it will end, as all five have undergone modifications, paying special attention to their weak points – and this trio are yet to flaunt theirs.
Most of Cooney's 2017 Comanche crew are back; James Spithill for star factor and two of Cooney's children.
"To cross the line first with James and Julia on board again, that would be great. The whole racing thing is about doing it with family," Cooney says.
Leading the charge for overall honours is reigning champion, Ichi Ban. The year-old TP52 owned by Australian Sailing President, Matt Allen, can boast a swag of wins.
The boat's record speaks volumes. Ichi Ban was recently named the Royal Ocean Racing Club's Yacht of the Year, for triumphs in the Brisbane to Gladstone and Rolex Sydney Hobart races and more.
"Like last year, it will be one of the most competitive IRC fleets seen anywhere in the world. Like every Rolex Sydney Hobart, you have to be able to beat those of your own size – and then the rest," Allen says.
Phillip Turner's Alive, one of three Tasmanian entrants, is among the 60-70ft yachts that could deny Ichi Ban. The RP66, owned by Phillip Turner and skippered by Duncan Hine, will have near-sistership, Wild Oats X (a second Oatley family entry skippered by Stacey Jackson) to push her along.
Four others with runs on the board add a bit of mystique: Sean Langman (NSW), Hugh Ellis (Vic), John 'Herman' Winning (NSW) and the Shelter Island Transatlantic Partners (USA).
Langman bought the RP65, Moneypenny, renamed Naval Group; Ellis purchased the RP63 Limit, rebadging it Voodoo; Terrance Glackin will skipper the Mills 68 Prospector for her first tilt at our race, while Winning has chartered Matt Allen's Carkeek 60, Ichi Ban, renaming her Winning Appliances. These are serious contenders, but we are yet to see their capabilities.
Then there is Triton. David Gotze/Michael Cranitch's Lyons/Cawse 60 will provide Tony Ellis his 51st ride south, when he will equal Tony Cable's record for the most Sydney Hobarts by an individual.
In the 50ft range is the TP52, M3 Team Hungary. Skipper, Aron 'Roni' Ormandlaki says, "I am very proud to be the first Hungarian entry in the race – and to be the skipper. I have only crewed for Australians in the race two times before."
Other internationals of note are Scott Innes-Jones's Cookson 50, Privateer (USA), and Eric de Turckheim's NMYD 54, Teasing Machine III (FRA). With an earlier Teasing Machine, de Turckheim finished seventh in 2015 and won division.
In the 40ft range, Bruce Taylor's Chutzpah won July's Noakes Sydney Gold Coast Race from Ichi Ban. Taylor, with 37 Hobarts behind him, finished the Hobart eighth last year and has twice finished second.
"We're amateurs, but we've done a lot of miles together. I'd like to win it for the guys," says the Victorian Taylor, who combined with the other Chutzpah pillars, have stacked up 232 Hobarts, including Drew Taylor who uniquely has done all 26 races with his father.
Tony Kirby's Ker 46 Patrice, Carl Crafoord and Zoe Taylor's respective Cookson 12s – Sail Exchange and Grace O'Malley; Mark Griffith's Ker 40 Showtime, the Ed Psaltis-skippered Sydney 36 Midnight Rambler, and the Sydney 38s, such as Tony Levett's TSA Management, is a snapshot of smaller boats in with a show.
Tasting success over the past two seasons, Tony Kirby can smell blood: "I'm sure Matt Allen's getting a sore neck looking around to see where we are."
Zoe Taylor brings Grace O'Malley for a second time. On her crew is Clipper round the world winning skipper, Wendy Tuck, named 2018 Australian Female Sailor of the Year and inaugural Offshore Sailor of the Year.
"We're in there with a chance. We have Sail Exchange, St Jude (Noel Cornish's Sydney 47 – winner of the Cabbage Tree Island Race in November) and Enterprise (Anthony Kirke's modified Farr 40 from WA) to sail against. The racing has already been great between us in the Audi Centre Sydney Blue Water Pointscore," Taylor says.
Veteran of 27 Hobarts, Greg Prescott, will give them a run too. The gun Tasmanian sailor has purchased a Farr 40, modified it and renamed it 2 Unlimited in keeping with the one-design champion's other boats' names.
In between are those from earlier glory days. The eldest and most famous is Kialoa II, an S&S yawl, built in in 1964 for American Jim Kilroy, who sailed her to Sydney Hobart line honours in 1971. She was purchased last year by brothers Paddy and Keith Broughton last year.
Mark Twain was the first yacht to attain 25 Sydney Hobarts when last raced in 2002. Michael Spies, a previous line honours/record breaker and overall winner, who has raced to Hobart 41 times, bought the 1971 built S&S 39 this year.
The 'youngster' is Shane Kearns' Komatsu Azzurro. Built in 1981, the S&S 34 nearly snatched victory from Balance in 2015 and has twice won the Sydney Gold Coast race.
Smallest in the fleet, is the Army Sailing Club's Gun Runner. At 9.2 metres, her skipper Maurice 'Reece' Young says, "It's absolutely hard on a small boat – and especially being down the back."
"Gun Runner is for soldiers to take on offshore passages to increase personal resilience – you have to dig very deep in this race," Young explains.
The Boxing Day start of the Rolex Sydney Hobart Yacht Race will be broadcast live on the Seven Network via 7Mate throughout Australia.
For full list of entries and all information: rolexsydneyhobart.com/
Article by Di Pearson for RSHYR media