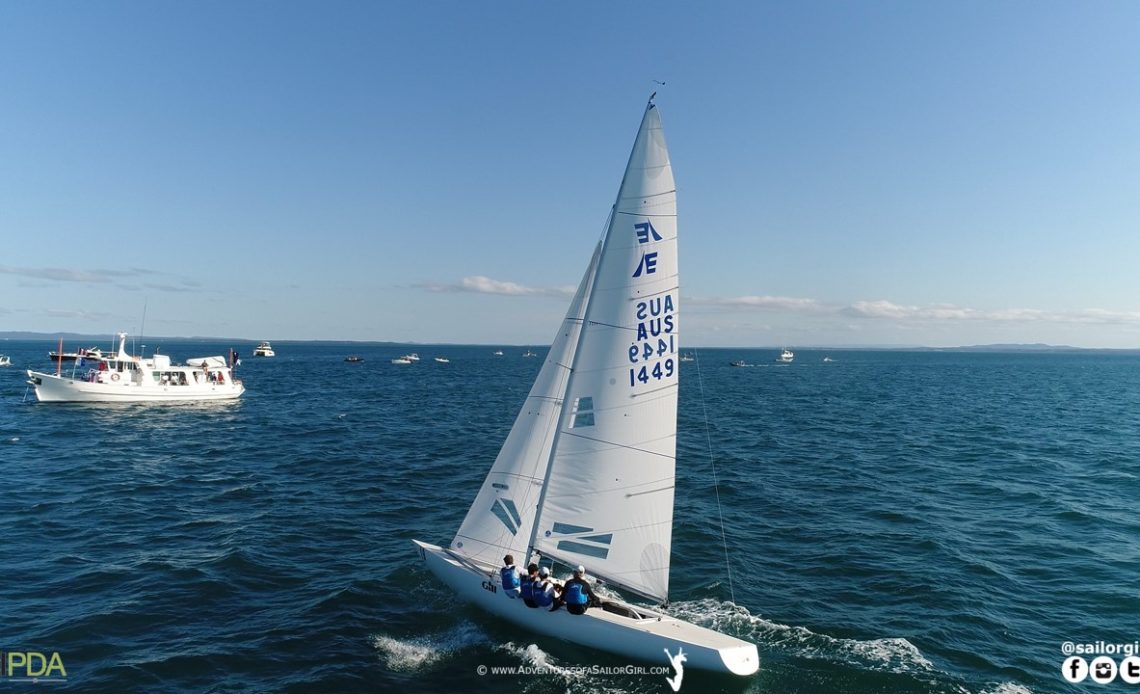 Day two at the Etchells World Championship sailing from the Royal Queensland Yacht Squadron was another day of waiting for breeze.
The Race Committee opted to keep sailors on shore, with the AP coming down just on midday, the scheduled time of racing.
The start for race two got away just after 1415 local Brisbane time (GMT +10), in a building nor'easter at 050 degrees. With wind against tide, it was inevitable that there would be at least one team over the line. The RO's managed to pick nine UFD's, including 1461, sailed by Iain Murray, Richard Allanson and Grant Simmer, who were the winners of race 1.
For the second time in as many days, Martin Hill and his team of Mat Belcher, Julian Plante and Sean O'Rourke sailing Lisa Rose 1449 led around the first top mark, closely followed by 1348 – Cruel Jane, the New Zealand team skippered by Andrew Wills who finished second at the Etchells Australasians. 924 helmed by Damien King with Jeremey O'Connell, Eliza Solly and Ashley Stoddart were in third, with Peter Duncan's 926 and Jeanne-Claude Strong's 1435 rounding out the top five.
Chris Hampton and his team of Sam Haines and Charlie Cumbley on 1443 were the movers on the first downwind to lead around the bottom gate over Damien King 924 and Peter Duncan 926.
Chris Hampton and his team extended their lead on the second work, with Damien King maintaining second, and Martin Hill 1449 sliding back into the top three for the final run.
At the final gate Chris Hampton continued to dominate the sea breeze track, but the minor placings behind shifted with Martin Hill moving up to second, and Peter Duncan into third. A bit further back Tom King 1442 slid up into sixth position and Jay Cross and his US team of Mike Muckley, George Peet and Eric Shampton 1464 moved into striking distance.
Chris Hampton, Sam Haines and Charlie Cumbley were never headed to take the gun in race two, Martin Hill, Mat Belcher, Julian Plante and Sean O'Rourke moved up to second, with Damien King, Jeremey O'Connell, Eliza Solly and Ashley Stoddard in third, and Tom King, David Edwards, Greg O'Shea and Ivan Wheen working nicely through to fourth.
After two races, Martin Hill leads with a pair of seconds, followed by Chris Hampton, then former Etchells World Champion and gold medalist in the 470 in 2000, Tom King, fourth, fifth.
"We are extremely happy to have kept our scores in the single digits so far, but it is a long way to go. With 94 boats, and of those so many who are capable of winning, our goal is to continue improving as a team" said Mat Belcher, gold and silver Olympic medalist and tactician for Martin Hill.
"We are definitely enjoying the racing and the hospitality of the class, the race committee have done a great job in the past two gays to get in two fair races in trying conditions".
Be sure to join the live drone action for day three tomorrow with Adventures of a Sailor Girl, or head to the event website or social channels for more coverage including photos, video, live trackers and live social updates.