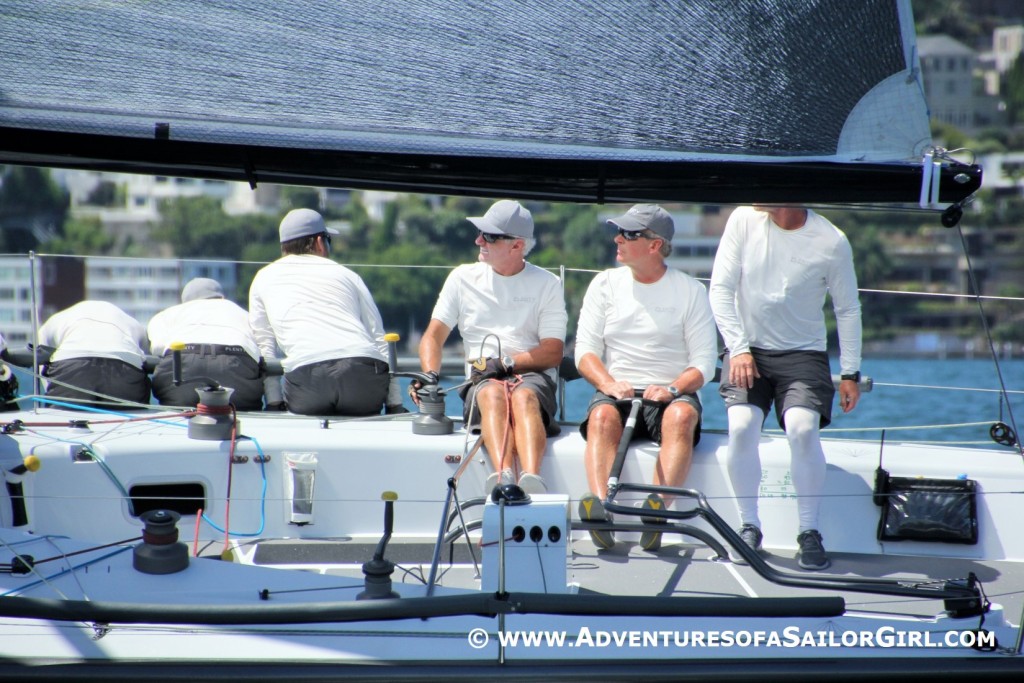 Interviews with "Boat of the Day" Struntje Light skipper Wolfgang and Martin Hill of Estate Master currently on equal second, with lots of on water footage too!
The 2014 Farr 40 world champion Plenty (Alex Roepers, USA), increased its lead in second day of the Sydney Open championship with continued consistency in a fleet of boats very evenly matched for speed.
Three more races in the nine-race series, a warm-up for the Rolex world championship to be conducted by Royal Sydney Yacht Squadron next week, were sailed today on Sydney Harbour in a perfect 12-14 knot nor'easter.
Plenty scored 2-1-7 placings; the seventh after having to execute a 360-penalty turn for a rules infringement in race six.
Roepers, who arrived in Sydney on a flight from New York at 7.30am on Thursday said he was well rested after the first day of racing. "I got through that first day quite well, got to bed at ten o'clock so today I was okay.
"It was a super day to be on Sydney Harbour so we are very lucky to be here our first two races were very good; it was nice to get back in the rhythm on the boat; we were all fired up today."
With three more races scheduled to complete the series on Saturday, Plenty leads with 18 points from Struntje Light (Wolfgang Schaefer (Germany), which scored 1-3-4 placings today and Sydney boat Estate Master (Martin Hill), 4-5-3 today, which are both on 27 points.
Struntje Light was the big improver, to second overall from seventh on day one, starting with a win in race four, the first of the day.
From a very good start at the pin end of line, Struntje Light was able to tack in good pressure off Bradley's Head and cross the fleet on tacking back towards Shark Island. She held a 20sec lead at the first windward mark rounding, never be headed.
Owner/skipper Schaefer said modestly. "We were lucky, we had some nice wind shifts."
The fleet again in yesterday's near perfect conditions remained extremely close around the course with all 12 boats usually overlapped, one with another, at the windward mark roundings.
"You've got to learn to go around that top mark following another transom otherwise you'll lose two or three places," said Martin Hill.
"It is very tight competition the ladder moves up and down all the time; You couldn't get better racing than that.
"And consistency pays. You see Alex Roepers very consistent, working his way through; not necessarily winning the starts but always improving. It's inspirational."
Bob Ross
More adventures at
www.AdventuresofaSailorGirl.com
, or @sailorgirl218 on social media for live updates from the racing right through to the world championships.