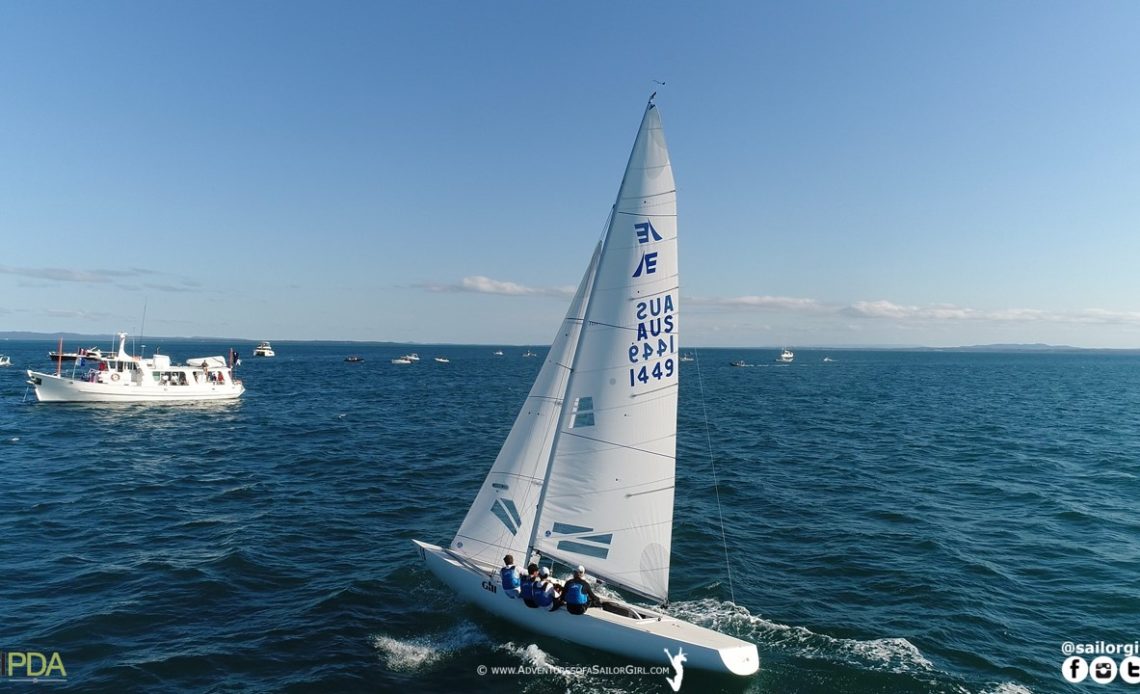 Twenty seven Etchells have returned to the Royal Queensland Yacht Squadron this week for a re-match, at least against their Australian competitors, on what were the waters for the World Championship held with 94 teams last October.
In today's practice race, Iain Murray, Colin Beashel and Richard Allanson took the gun, proving yet again that their new Etchells has what it takes to take the bullet. This is definitely one crew that will be looking for redemption, following on from their up and down scorecard (they started with a 1 – BFD) last year.
The current World Champions, on board Lisa Rose, were one of a few teams that opted to retire from the practice race. Not surprising given that most teams have been out training over the weekend, and have spent a lot of time on this particular race track in the past twelve months.
Ahead of the start of the Nationals, Martin Hill, skipper of Lisa Rose reflected on their win back in October. "Looking back, it was difficult not to be awe-struck, firstly with the sheer enormity of the 94-boat-fleet, and then the calibre of the teams and rock stars that we were lining up against" said Martin. "With names such as John Bertrand, Iain Murray, Steve Benjamin, Jud Smith and Tom King, to be honest some of my own yachting heroes, I really had to put on my blinkers and concentrate on sailing my own boat."

"I learned from Mat Belcher along the way the importance of being mentally tough, but also psychologically how other crews are likely to react to your sailing which we can hopefully continue to put into practice at regattas such as the Nationals this week, and then the next World Championship in Texas later this year" continued Hill.
"One of the key assets of our team is our ability to be open and honest with one another by recognising each of our strengths and weaknesses early, and really work on improving the areas that were not our strong points. This really was the basis for our great chemistry when we were tested in high pressure situations, but we had built the trust quickly through our sincerity. We also knew that we had an exceptionally strong coaching and technical team, from Michael Blackburn, also my son-in-law providing daily analysis, Michael Coxon assisting with sails, and David Chapman who has sailed with me for many years and was invested in our success. In addition to our coaches, we had two training partners; Tom King and David Turton and their teams. We would line up every day before racing, and we trained for months in advance sharing our knowledge, insights and "war stories" which was invaluable."
"A thank you in advance to all who have helped us and will be helping us this week", said Hill, "especially my amazing family, and wife Lisa, they are always with me every step of the way, and I couldn't do it without them".