The Etchells 2023 NSW Championship supported by the Bendigo Bank, was sailed from the Gosford Sailing Club 24-26 February. With 31 boats on the start line, it is the largest fleet of Etchells to race in Australia post-COVID.
Jeanne-Claude Strong on Flying High AUS1435 led the regatta with her crew Sam Newton and Seve Jarvin after day one, with a consistent a 9, 4, 2 (15), followed closely by Doug McGain. Michael O'Brian and Mark Dagworthy on Ciao AUS1244, 10, 5, 1 (16) and Peter Merrington, Ian McKillop and Grant Simmer, First Tracks AUS1485 2, 2, 13 (17).
"Results are tight after the first day" said JC Strong following the first day of racing from the top of the leaderboard. "Sailing in Gosford has been great. The locals are super welcoming and the organisation has been A1".
"Today was challenging for everyone, with shifty conditions in light breeze and with a short lived period when a lot of teams changed to heavy jibs and runners, but it soon settled down again", she continued.
"Very tough day, not that windy, but the pressure came through with some rain clouds at times. Very shifty, with flat water keeping everyone quite close on the race track. So typical Gosford" confirmed Douglas McGain, who also managed consistent results despite the challenges.
"While the track was mostly set around 055 degrees, there were plenty of changes of course, ranging from 5 knots to 12 knots" explained McGain. "Every side of the bay had its turn, but it was mostly about trying to join the dots and crossing your fingers and hoping for the best".
Unsurprisingly, given the localised conditions, there were two winners of races from the Gosford Sailing Club, John Denton with Jack Sprague and Peter Bailey on Ivy AUS892 won Race 1, and John McDougall, Peter Rivers and Andrew Heenan on Pointless AUS910 won Race 2. Pointless finished the first day in fifth overall.
"The local boats did a superb job today, congratulations and well done" finished Strong.
"Two locals won a race today, which was awesome to see, showing all these hot shots how to do it. It actually is really good, it proves the regular sailors can have a chance against the best, with the fleet more equalised now" said McGain.
"Nice to see 31 Etchells racing again now with several M11 boats in the regatta, and nice to see the top yachtsmen [and women] racing" Strong said of the large fleet.
"The RC did a great job to get three races in, we only need four [races] for a series, so we will just take it every leg at a time, try to get a good start and sail what is in front of us" finished McGain on the plan for tomorrow. "Tomorrow looks a bit better, still going to be very shifty, but there will be wind, tomorrow should be a more consistent wind, 10-12 knots" concluded McGain.
First Tracks, skippered by Peter "Billy" Merrington, with Ian McKillop and Grant Simmer had an all but perfect second day with a 1, 1, 2, 1 to take the regatta lead.
"It actually ended up being a bit more breeze than expected, which was great. 9-11 knots for most of the day, it was pretty perfect" said Peter "Billy" Merrington of the racing for day two.
"It was fairly steady at 055, equally shifty as you would expect in this waterway, so plenty of little puffs to look out for. We had four good starts as well, which made life a bit easier" he admitted humbly.
"The Race Committee are doing a really good job, they know their waterway pretty well which means they do a really nice job of setting a course, they don't worry about the micro wind shifts, which meant that today they set the course at 055 and knocked the races out quickly" said Merrington.
"GT sailed a really solid day today, he won one race. We had some really solid battles over the course of the day with positions going back and forward, and with two races tomorrow we know we need to keep an eye on them," said Merrington of the now second-placed team on Magpie AUS1486.
"We just got the band back together and are working out how to do it again, so we've got a long way to go, but know exactly what to do," said Magpie's James Mayo of the team skippered by Graeme "GT" Taylor with Richie Allanson.
"We left a lot of our points out on the racecourse, just with the simple things, but we know exactly where we left them. Conditions were pretty tricky at the start, and if you weren't able to get the first shift you had to be careful not to rip your cards up, and to just be patient and eliminate the mistakes".
"Billy did a good job, he's been doing a lot of training and you can see that, and they are where they should be. We always work extremely well and this is the first time we have sailed together for a few years and it was like putting a glove back on and yeah, it's good fun to be back in the fleet", Mayo concluded.
On the camaraderie of the Etchells class, Merrington commented, "it's great to see the Queenslanders have a really good race as they have travelled so far".
"Being from Brisbane we had no idea about Lake sailing so yesterday was a massive humbling learning curve. Never been to Gosford before. Today we were more in tune with shifts and pressure lanes and boat set up," said Todd Anderson, skipper of TAG.
"Good conditions today for Etchells, always flat water and some opportunities. Worth the drive for the experience and Etchells camaraderie and very high level of sailing" he concluded.
"Squark [Pie AUS947] and Matt Ramaley also had a really good day, they are ones to watch out for at future regattas" said Merrington of the other standouts for the day.
Matt Ramaley and his team of Mark Langford, Jess Angus and Hannah Lanz on AUS1463 were awarded the Oyster Cup for day one of the event, with Royal Sydney Yacht Squadron taking out the team event.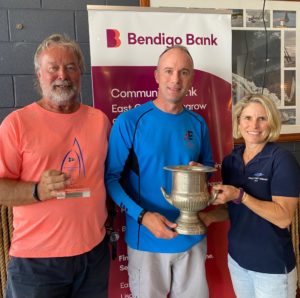 "We focused on our starts and consolidating with the fleet in the top third to avoid falling off the edge of the breeze, a big lesson from yesterday" said Matt Ramaley. "That meant we patiently took our medicine on some consolidations but top ten consistency was the payback".
"The sailing is hard, but it's good learning on risk management. Not every venue is going to be a solid 15-20 from the northeast like Sydney Harbour so we renewed some lessons this weekend. We are enjoying our sailing, reinforcing consistent go-to settings and racing the boat. Mark has done a great job of building Jess and Hannah into the decision making. Solid contributions from both. It's a good build up to Perth" he surmised, speaking of the next World Championship that will be held in Australia in just over a year's time, 18-22 March 2024.
On the final day, there was no racing due to a lack of consistent breeze. The results from the end of day two therefore were the final results, and Peter "Billy" Merrington, and his team of Ian McKillop and Grant Simmer on AUS1485 First Tracks, were crowned the Etchells 2023 NSW Champions.
"The Race Officer, he gave it a red hot go to try to get a race away, unfortunately the conditions just didn't play ball. There was a westerly drainage breeze so the sea breeze just didn't get to us, part and parcel of the inland waterways such as Brisbane Waters," said Merrington of the final day of racing.
AP was originally hoisted over 1 at 9:35, and was removed at 11:55, with a standalone AP hoisted at 12:00. The Race Committee did their best to get racing away, but it wasn't meant to be with a final call made just after 2:30pm that there would be no racing.
"Both my guys sailed amazingly all weekend," Merrington commented, "it's quite a pleasure to sail with Grant Simmer. He is calm, he is calculating, he has seen it all before. The pearls of wisdom that he brings, both in racing and over the last couple of weeks in training have given us a new perspective".
"Ian McKillop, he really is the brains of our operation, and we are extremely privileged to have him on board. We have sailed together for at least nine years, so it's a pretty good partnership. But yes, he might be the youngest but he is definitely the brains."
"One thing I want to say is that we need to give full credit to the Gosford Sailing Club, they have given a bit of a clinic on how to run a regatta well. The volunteers were amazing, from helping us to load our boats in, to measurement and registrations, to the really great social calendar which was planned, which kept everyone together as a unit for the regatta".
"When we were packing up today, the same people were there to help us pack the boats away and there was even a trolley filled with ice and beers, the competitors really appreciated that.
"Gosford Sailing Club have won the championship of how to run a regatta" finished Merrington, as he headed off to enjoy the win with his fellow Etchells sailors.
Regatta statistics
99 competitors were made up of twelve women, two of which were female skippers. The average skipper age was 60, which meant that the Masters Division was exceptionally hard fought for. The average crew age was 58. The oldest competitor was 76, with six competitors over seventy. The youngest competitor was 17, with four sailors, twenty and under. There were sixteen Corinthian crews, 16 masters skippers, and 11 grand master crews.
Prize Winners
Overall Etchells 2023 NSW State Championship
First Tracks – Peter Merrington, Ian McKillop & Grant Simmer
2nd – Magpie – Graeme Taylor, James Mayo & Richie Allanson
3rd – Flying High – Jeanne-Claude Strong, Seve Jarvin & Sam Newton
Grand Masters Trophy (combined crew age over 165)
Pointless – John McDougall, Peter Rivers and Andrew Heenan (5th overall)
Masters Trophy (skipper over 60)
Flying High – Jeanne-Claude Strong, Seve Jarvin & Sam Newton (3rd overall)
Corinthian Trophy
Ciao – Doug McGain, Mark Dagworthy and Michael O'Brian (4th overall)
This regatta would not be possible without the sponsors, Bendigo Bank the sole Gold Sponsor, and our Silver Sponsors, North Sails who have supplied a new jib as the mid fleet prize, Whale Spars with a new Etchells Boom, Peter McNeill Sails who have supplied vouchers, Burke Racing with Competitor Caps, DeckHardware have donated a Main Sheet, Jib Sheets, and Spinnaker Sheets, AMBIDA provided the Bow Numbers, Harken sponsored the regatta with a Megapro 15-in-1 Multi Bit Screwdriver and CUB the all important dockside beers on return to the marina after racing. The club and regatta are also supporting Sailability Gosford.
In addition to the on water sponsorship and support, thanks to Heidi Tai Chi for the warm up on Saturday, and Stretch Lab in Terrigal & Newcastle for the stretching before the final day of racing.
Thanks once again to all of the volunteers who worked behind the scenes to make the regatta happen, from Gosford Sailing Club, to the Etchells Committee.
Next up will be the Etchells 2023 Victorian Championship out of the Royal Brighton Yacht Club from 11-13 March 2023.