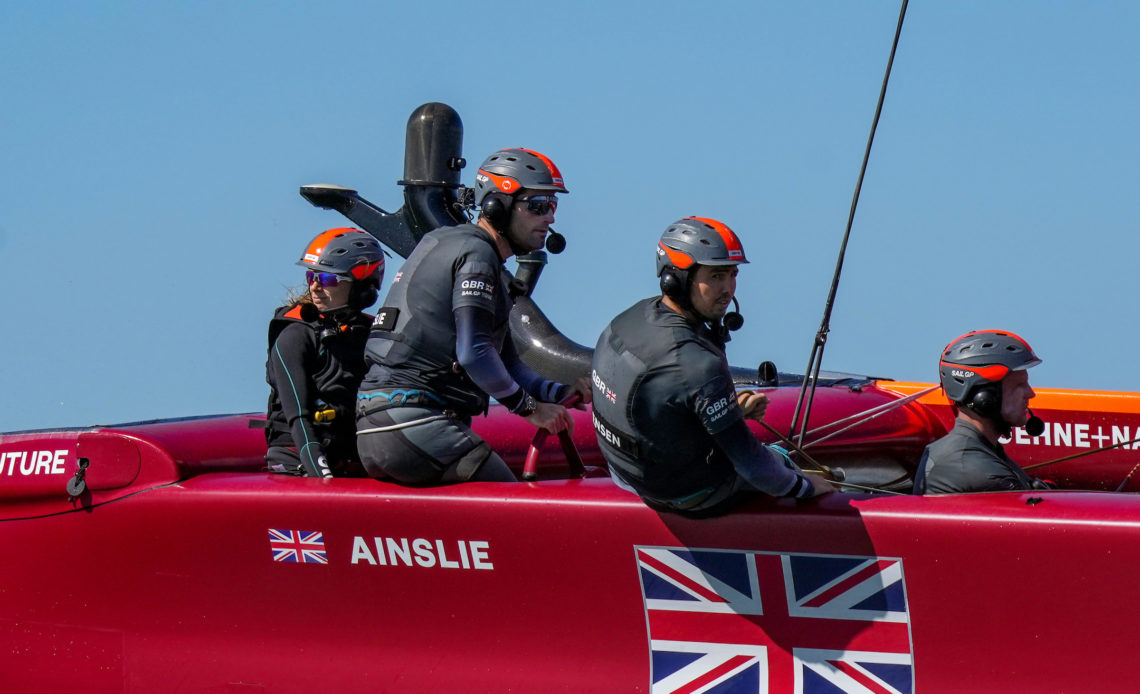 Marco is on the ground for us once again for the SailGP this weekend. The Official Press Conference took place earlier today – you can watch in full below, or check out our highlight points following the video! More to come!
Florian Trittel – Spain SailGP Team
How have you felt arriving to your home event in Cadiz, and what are your feelings on how you might perform on the weekend?
Amazing, been received by open arms. Glamorous conditions and productive week [of training].
We have been working on so many things, getting time on the F50 is precious and we've gotten some. Changed some stuff in the playbook; we expected to do better in Saint-Tropez, our third place is not representative of us.
We analyze every start; good and bad starts. We have a clear pathway to being consistent.
Skipper Jordi has stepped up, and he's looking very good. We are still figuring out when the handover will happen.
Onboard Phil is calling tactics; but we're a good team and we all work together in the same direction.
Andrea is onboard for this event, and it's great, we have to brainstorm what her responsibilities will be, but with two extra eyes we will race faster.
Maybe she wants to drive?
Ben Ainslie – GBR SailGP Team
My motivation behind taking ownership is that it's imperative that SailGP is a success. Commercially and from a sport point of view.
You crashed with Spanish; is it difficult to stop these boats?
We are penalized for crashes and that's how it should be. My mistake in terms of the decision made, and I'll take it on the chin and avoid these decisions down the line.
Hannah is onboard; it's critical to spot the wind and she can definitely help us with that and the overall analysis. Proud to have her with us.
Will you use her in different roles given the forecast?
It's a work in progress; her expertise is definitely on positioning on the racecourse and overall performance.
In low winds the course is split in half; it's the nature of the league. Adding a person will help us.
Nathan Outteridge – Japan SailGP Team
I was in Cadiz in 2003. Feels like a long time ago, happy to be back, remember the tricky conditions.
We've created a habit of performing well in light and hope that's the case
All good between you and Ben Ainslie after Aarhus?
It's ok, what happens on the water stays on the water. It was an Umpire decision ultimately.
Getting higher in impact league?
Struggled the most in the beginning; partnered with Plastic Planet and they've really helped us with our process. We've been able to learn about sustainability and we are seeing results, especially on base and how we operate. Keep climbing and hopefully beat NZ.
Rome Kirby – USA SailGP Team
Yeah we definitely had a tough start in Bermuda but we've been working on our processes.
We have been close to winning before and I'm sure we can get a crucial one heading into San Francisco.
Every event is tough, there's no one in particular where we can get ahead. It doesn't matter where or when.
CJ can fill in a few different roles. Excited to have her after her win in the Waszp Nationals.
Andrew has always provided tactics so we are going to keep it the same.
Who's the favourite?
Flo: we want to be
Nathan: good luck buddy
Rome: the Spanish need to deliver
How can Rome and Flo help the skipper?
Rome: focus on making the boat go as fast as possible
Flo: feed all the information from my position and help decide
Describe the Bay of Cadiz in two words
Flo: absolutely fantastic (in Spanish)
Ben: beautiful and extreme
Nathan: sunny and warm
Rome: tricky and fun
Nicolai Sehested – DEN SailGP Team
We have never made a final.
Breakage could have been avoided in St Tropez; we are learning on and off the water since we're a new team.
There's no magic to it; need to get the hours in the boat and analyze the data and to close the gap you need to work harder than the other teams.
Looking to any team in particular?
Looking at all of them; but we also focus a lot on ourselves.
Goal for San Francisco?
If we get some points in these next events, we are still in the fight for San Francisco.
Think you can win in Cadiz?
Well once you are in the top three it's anyones game.
Peter Burling – NZ SailGP Team
Newest team and favourites coming into the season, and we got close to the podium in St Tropez. We look forward to racing here.
We know what to improve to get back to our winning ways; the gains are everywhere, and in the details.
Quentin Delalpierre – FRA SailGP Team
Why replace Billy? Internal decision, incredible opportunity.
Feelings from sailing for first time?
Quite amazing, great feeling for the first time at these speeds. The team has been teaching me and I feel their confidence and it helps.
I have a lot to learn on this boat. Focused on boat handing for this event and avoiding stupid mistakes and collisions.
I'm not here to do a revolution? I'm here to learn as quickly as possible and this first week we need to feel confident with my steering style and maneouvers.
Expectations?
Just want to build a solid team, looking at data and be confident on the race course.
Tom Slingsby – AUS SailGP Team
Some good, some bad events. Consistency is not in our dictionary at the moment; unlike us but it's a big problem. Tech issues but we didn't adapt correctly to them. Could have done better. Need to steady the ship and we don't want to miss the final three.
Expectation is to make the final three; we're here to win, not make up numbers and we need to represent Australia well by standing on top of the podium. It's on the table in Australia and San Francisco with stronger breeze likely for both venues.
Nina onboard; don't have a clear idea. Had her involved on start line and on the race talking relative to other boats. Looking to make her actively involved. In our four people configuration we had her on the grinders and she was tired.
Advice to Quentin Delapierre?
Tom: enjoy the opportunity and concentrate on yourself.
Peter: do whatever you want, stick to what you know
Nicolai: don't get carried away by the pressure for results
Who would you follow to learn?
The top three is tight, but I'd follow the GBR
28 metre wing?
Nicolai: need to see again
Tom: need more data and to learn
Quentin: we'll see what happens, my first time. 24 was already very big.